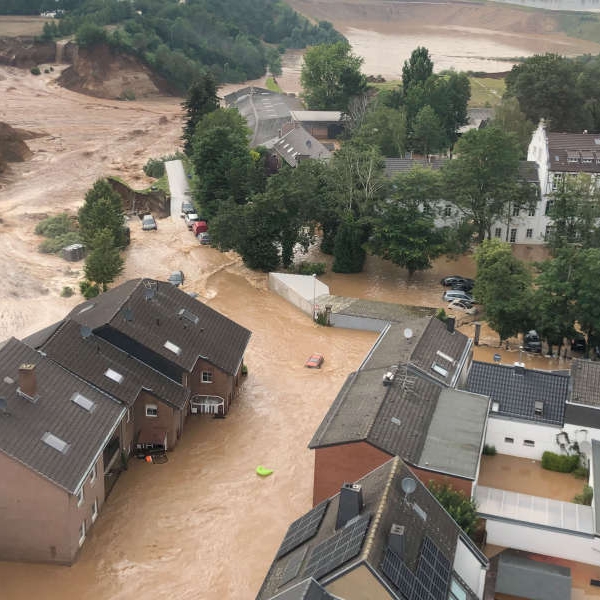 Image: BezirksregierungKöln/Twitter
Dozens of people remain unaccounted for.
92 people have died during severe floods in Germany and Belgium.

Germany's Chancellor, Angela Merkel says the situation's a "catastrophe" - dozens of others are still missing.
Drone footage shows the extent of damage in western Germany after heavy rain triggered severe floods.

Dozens of people are still missing.

Latest on this story here: https://t.co/tDlDebAN8h pic.twitter.com/dyW5i5TKne

— Sky News (@SkyNews) July 15, 2021
Among the worst-hit German villages was Schuld, where several homes collapsed.

Andreas Mueller lives there and had to wait hours to know his in-laws were safe:
Climate scientists shocked by scale of floods in Germany https://t.co/vtryG4DsBt

— The Guardian (@guardian) July 16, 2021
Soldiers have been deployed, though power outages are hampering rescue efforts.

Berlin Correspondent with the Irish Times Derek Scally says the rescue effort continued through the night
++ Eilmeldung ++ In #Erftstadt-Blessem sind Häuser massiv unterspült worden und einige eingestürzt. Es werden etliche Personen vermisst. Aus den Häusern kommen Notrufe, aber eine Rettung ist vielfach nicht möglich. Unser Katastrophenschutz ist vor Ort. Fotos: Rhein-Erft-Kreis pic.twitter.com/Waaq3tMciM

— BezirksregierungKöln (@BezRegKoeln) July 16, 2021
By Friday afternoon, the death toll had risen to 100 people.
There are fears that two dams could burst their banks and cause further flooding in Belgium and Germany

While authorities in Switzerland have also issued warnings about water levels there.

Tom Douglas reports
: