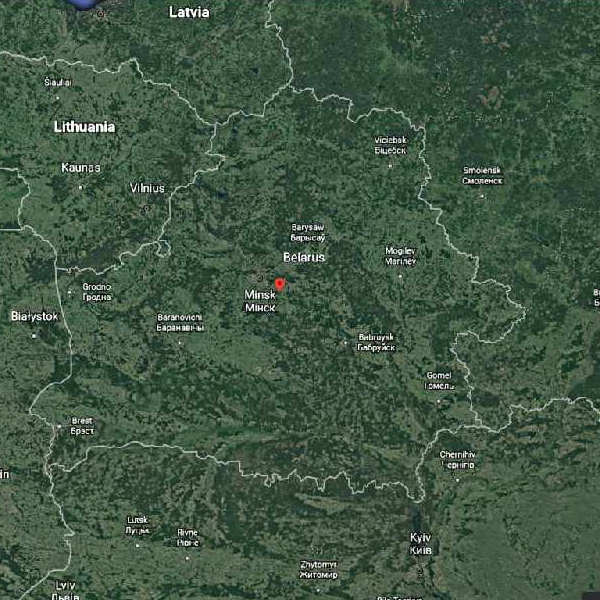 File image: Google Earth
26 year-old arrested on Sunday in Minsk
The European Council is calling for the immediate release of an opposition journalist, whose Ryanair flight was hijacked over Belarus on Sunday.
Roman Protasevich was arrested after the plane was forced to divert by fighter jets to Minsk.
Planes from Belarus have been banned from entering EU airspace.
Speaking last night, EU Commission President Ursula von der Leyen says Belarus needs to become democratic:
Lukashenka and his regime will face severe consequences.

We will keep pressure on the regime until it respects media freedom and freedom of opinion.

Roman Pratasevich & Sofia Sapega must be released immediately.

Belarus authorities are entirely responsible for their health.

— Ursula von der Leyen (@vonderleyen) May 24, 2021
The journalist has since appeared in a video confessing to crimes - but his father Dzmitry is certain he was forced to do it.
Fellow independent Belarusian journalist Kirill Voloshin agrees - and he has his concerns:
Last night a video showing Mr. Protasevich was released from his jail cell where he says he's cooperating with investigators, and confessed to charges of organising protests.
Global outrage as Belarus forces a passenger plane carrying a wanted opposition activist to divert and land in its capitalhttps://t.co/Ji1aHOHeM0

📹 Passengers aboard the Ryanair flight carrying dissident journalist Roman Protasevich describe what happened during the flight pic.twitter.com/h4512Wx1tP

— AFP News Agency (@AFP) May 24, 2021