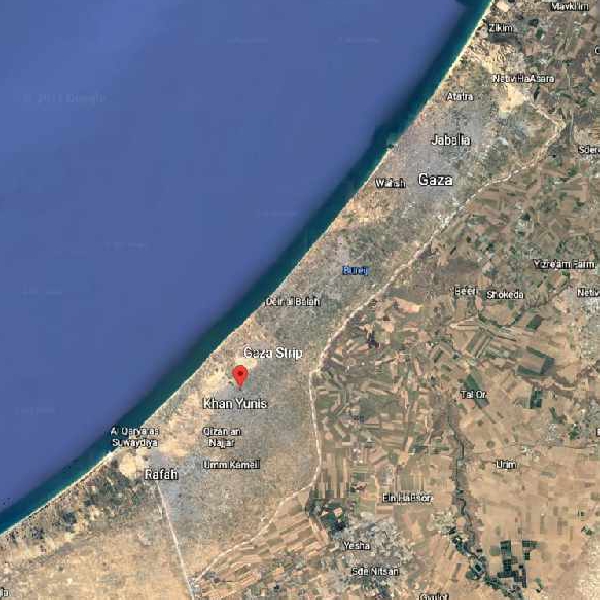 File image: Gaza/Google Maps.
Nearly 120 people have been killed in Gaza and eight have died in Israel.
Protests have turned violent in the West Bank.
The Israeli army says a soldier has shot and killed a Palestinian man who is claimed to have rammed his car into a military post, before exiting the vehicle and attempting to stab the soldier.
Sky's Mark Stone is in Ramallah, in the West Bank, at a crossing into Israel:
Israel has assembled thousands of troops at the Gaza border as the conflict with Palestinian groups intensifies.
The country is preparing for a possible ground operation as air strikes continue on both sides.
Israel-Gaza violence: Rockets and shelling continue https://t.co/WUmlOBdCzR

— BBC News (World) (@BBCWorld) May 14, 2021
The health ministry in Gaza says at least 122 Palestinians have been killed, while 8 people have died in Israel.
Sky's Mark Stone has been at the Gaza border:

Dr Michael Oren, former Israeli Ambassador to the US, says there's been similar fighting before:
LATEST: Israeli ground forces joined in bombarding Gaza on Friday, representing a major escalation of the conflict between Israel and Palestinian militants as they edged toward all-out war. https://t.co/RgaNycYPIr

— NBC News (@NBCNews) May 14, 2021
Middle East Correspondent with the Independent, Bel Trew says Israeli have held off on a ground invasion so far:
#Israel army says there was no ground invasion overnight but a significant joint operation that saw 160 planes from 12 different squadrons and infantry troops operate together to destroy an underground tunnel system known as the 'metro' "that is a city under the city of Gaza"

— Bel Trew (@Beltrew) May 14, 2021
Bel Trew adds that 160 Israeli planes launched a 40 minute intense barrage on Gaza last night: