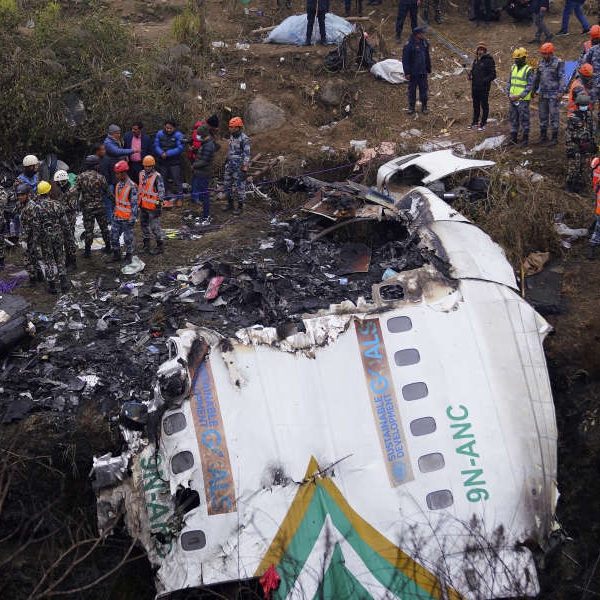 File image: @PhilippineStar/Twitter
No survivors are expected from the Nepal plane crash
The Department of Foreign Affairs has clarified that a man, who was onboard a flight that crashed in Nepal, is a UK citizen.

It had been thought an Irishman was on the flight but the Department of Foreign Affairs says Ruan Calum Crighton is a UK national and the UK's Foreign Office is providing consular support.

Mystery surrounds how this Yeti airlines plane came down in clear blue skies around 2km from the runway.
It was flying from Katmandoo to the popular tourist city of Pokhara, it had been coming in to land at an airport that opened just two weeks ago.
Some 72 people were on board, at least 69 have been confirmed dead so far and no survivors are expected.
Nearly 350 people have died in crashes in Nepal in the country since 2000.

A national day of mourning's begun in Nepal – as investigations continue to try figure out what happened.

Retired Air Corps Lieutenant Colonel Kevin Byrne says the cause of the crash is a mystery so far:

Shambhu Subedi, from the local armed police force, explains what the current situation is:
Moments before the tragic plane crash in Nepal today streamed by a passenger on Facebook live…Don't take the gift of life for granted. pic.twitter.com/Xix1EZjeEm

— Mike Crispi (@MikeCrispiNJ) January 15, 2023
Video of what seems to be moments before the crash of Yeti Airlines🇳🇵 ATR72 carrying 72 passengers near Pokhara Airport#aerowanderer #aviation #avgeek #nepal #yetiairlines pic.twitter.com/hk12Edlvpf

— Aerowanderer (@aerowanderer) January 15, 2023