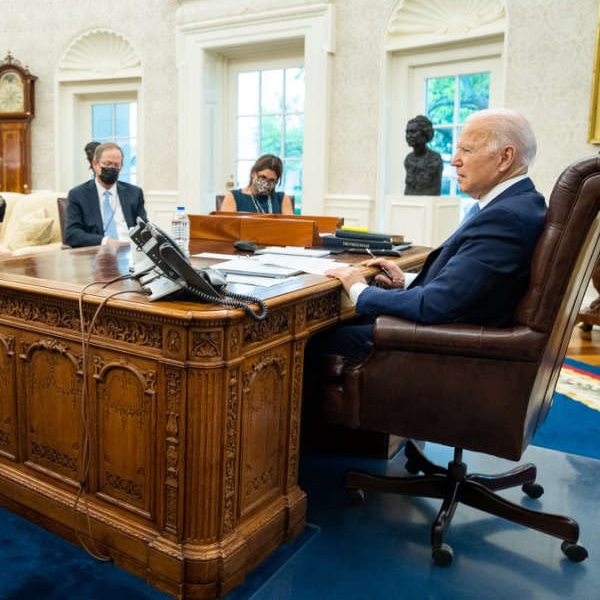 As well as 15 Afghans entitled to Irish residency
Approximately 60 Irish citizens and 15 Afghans, entitled to Irish residency, remain in Afghanistan.
Refugee status has also been allocated to 280 Afghans.
Approximately 30 have already relocated here.
The Army Ranger Wing, based at the Curragh, was recently deployed to the country, to evacuate 26 Irish citizens from Kabul.
Chief of Staff of the Defence Forces, Mark Mellet, says they are ready to serve again if requested:
The US President says the US military's evacuation process from Afghanistan was an "extraordinary success".
Joe Biden has made his first public speech since US troops completed their withdrawal from the country.
The 78 year-old says there are still between 100 and 200 Americans in the country who want to leave - he has promised they will not be left behind.
The fundamental obligation of a President is to defend America.

Not against the threats of 2001, but against the threats of 2021 and tomorrow.

I do not believe the safety and security of America is enhanced by continuing to deploy thousands of American troops in Afghanistan.

— President Biden (@POTUS) September 1, 2021
He added that the US has leverage to make sure the Taliban's commitments to safe passage are met:
Biden has been heavily criticised for his handling of the airlift, which saw more than 120,000 people successfully flown out of Kabul.
Mr Biden's addressed the American nation yesterday.
There is nothing low-grade, low-risk, or low-cost about any war. It was time to end the war in Afghanistan. pic.twitter.com/jAGbWnBzol

— Joe Biden (@JoeBiden) September 1, 2021
Despite leaving Afghanistan, he had this warning for Islamic State affiliate group, ISIS-K:
The EU state's mission to evacuate Afghans has been a failure, according to an expert in international studies.
Dr. Edward Burke has accused all states, apart from the Netherlands, of acting too slowly to get locals who worked alongside foreign teams out.
The UN Security Council has since adopted a resolution requiring the Taliban to keep it's promise to allow people leave Afghanistan safely.
Dr. Burke says former EU staff had been asking for months for a list, detailing people whose lives were at risk: