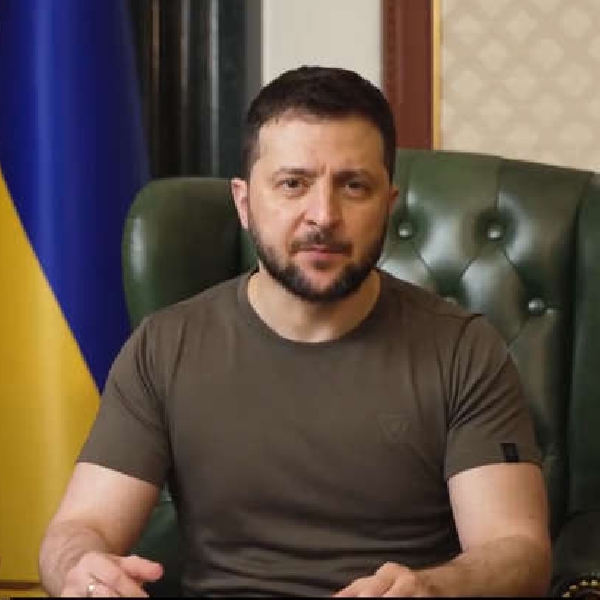 File image: Volodymyr Zelenskyy via @ZelenskyyUa/Twitter
The three men travelled by over-night train into Kyiv
President Volodymyr Zelenskyy has welcomed the leaders of France, Germany and Italy to Ukraine.
French President Emmanuel Macron, German Chancellor Olaf Scholz and Italian Prime Minister Mario Draghi travelled into Kyiv on an overnight train.
Irpin en Ukraine. Nous avons vu la ville dévastée et les stigmates de la barbarie. Et l'héroïsme, aussi, des Ukrainiennes et des Ukrainiens qui ont arrêté l'armée russe alors qu'elle descendait sur Kiev. L'Ukraine résiste. Elle doit pouvoir l'emporter. pic.twitter.com/yzwBGBJ5dx

— Emmanuel Macron (@EmmanuelMacron) June 16, 2022
The group visited Irpin, where the French president agreed that war crimes and massacres have been committed.
Meanwhile, NATO defence ministers have been meeting in Brussels.
NATO's Secretary General, Jens Stoltenberg, has outlined a fresh package of support:
As long as necessary, until peace returns to a free and independent Ukraine, we will remain committed. Humanitarian, economic and military support to enable Ukrainian soldiers to make a difference on the ground against the Russian army's attacks. pic.twitter.com/XN9dq9sUum

— Emmanuel Macron (@EmmanuelMacron) June 16, 2022