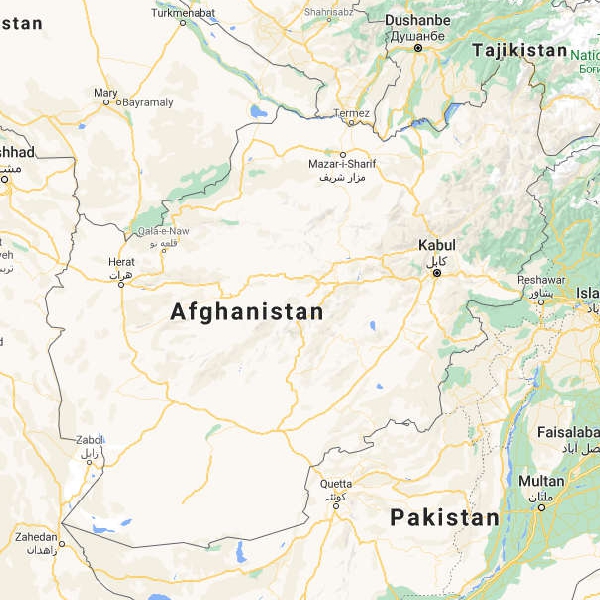 File image: Google Maps
Irish Army Ranger Wing & Irish diplomats have begun leaving Afghanistan after less than 48 hours
At least 13 people - including children - have died following an explosion at Kabul Airport in Afghanistan.
The US Pentagon says it happened near the Abbey Gate - where American and British forces have been stationed.
Initial reports suggest there were two explosions and gunfire.
Earlier, the British Armed Forces Minister warned a terror attack at the site was "imminent" and "lethal".
Sky's Deborah Haynes is following developments:
This morning, there were reports of large crowds at Kabul airport despite warnings of a potential terrorist attack.
Defence Force members are to pull out of Afghanistan, after less than 48 hours in the country.
The Foreign Affairs Minister says members of the Army Rangers and diplomats at Kabul Airport are safe, as evacuation efforts continue ahead of Tuesday's deadline.
The Irish Independent is reporting they have secured passage for a number of Irish citizens and visa holders with a decision to leave expected to be taken in the coming hours, due to a growing threat of a terrorist attack at Kabul Airport.
Irish Army Rangers, based at the Curragh, are working to evacuate 36 Irish citizens, passport & visa-holders.
A former patrol interpreter to western forces is still in Afghanistan, and says he's scared:
The UK, Australia and United States have issued alerts to their citizens - telling them not to gather at the site.
US Secretary of State Antony Blinken says leaving Kabul won't be the end of US Forces work:
According to a security expert, it's unlikely all Irish citizens will be evacuated from Afghanistan by 31st August.
That's the date when US President Joe Biden has committed to withdrawing American troops.
More than 10,000 people are waiting at Kabul airport, desperate to leave following the Taliban takeover.
Security and Defence Analyst, Declan Power, joined Ciara Noble this afternoon on 'Kildare Focus', noting the evacuation of all 36 Irish citizens, passport & visa-holders, out in the coming days is unlikely:
Many people are being taken from Afghanistan to Qatar, with refugees housed in accommodation built for the upcoming World Cup.
Qatar's assistant foreign minister Lolwah al-Khater says they're helping people of all ages:
Since August 14, the U.S. has evacuated and facilitated the evacuation of approximately 95,700 people. Since the end of July, we have re-located approximately 101,300 people.

— The White House (@WhiteHouse) August 26, 2021