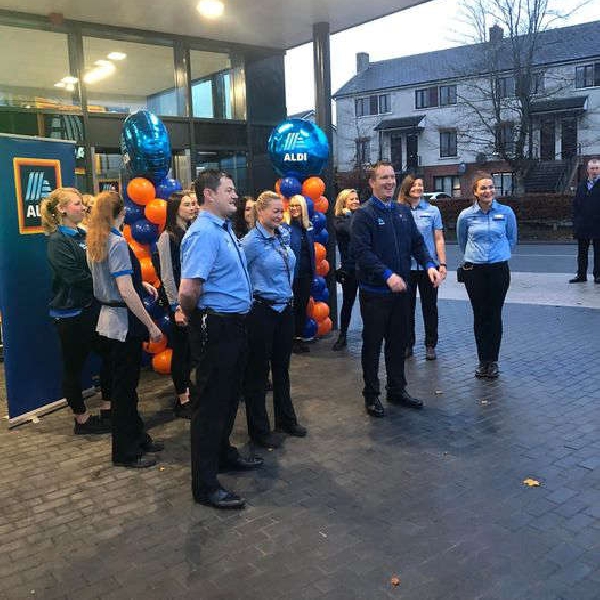 ALDI have invested over €126 million in Kildare since opening their first store in Clane in 2004.
ALDI Ireland today announced details of its continued significant contribution to Kildare's economy and the impact of its charity partnerships across the county.
In its annual ALDI Economic Impact Report published today, the company said it paid €30 million in wages and salaries, while welcoming over 3 million customer visits to its Kildare stores last year.
In 2022, ALDI sourced over €10.5 million of locally produced food and drink from Kildare based suppliers.
ALDI partners with 11 local Kildare producers, including key relationships with Kildare Brewing and Coghlan's Bakery.
Last year, ALDI began working with 15 new Irish suppliers for the first time, opening opportunities for local companies to stock their local produce on the shelves of one of Ireland's leading retailers.
Operating seven stores in Kildare, as well as a regional distribution centre and corporate office, ALDI employs over 600 full time staff in the county.
In January 2022, ALDI officially opened its new corporate office facility in Naas, Co. Kildare, with former Tánaiste and current Taoiseach Leo Varadkar TD in attendance to mark the occasion.
The facility, which houses ALDI's National Buying and Marketing teams, features a state-of-the-art development kitchen where ALDI's Buying team creates and tests new Irish products.
ALDI's Kildare stores support multiple charities at a local level. Each store is part of ALDI's food waste reduction programme, with ALDI's Kildare stores having donated over 56,000 meals through FoodCloud to local charities.
Since July 2022, ALDI's corporate office has been affiliated with Main Street Food Bank in Naas, who have received monthly food donations from ALDI colleagues.
To date, over two tonnes of surplus food has been donated, which equates to more than 2,600 meals and a saving of almost 3,500 kg of CO2.
Each store is also part of ALDI's Community Grants network with Lilywhite Wheelers Multi-Sport and Samaritans Newbridge just some of the local charities that availed of the €500 bursary grant in 2022.
In addition to donating to local charities, ALDI also supports local communities through its tree planting initiative, with a commitment to planting 1 million native Irish woodland trees across Ireland by 2025.
To date, ALDI has planted over 23,000 trees across County Kildare.
Commenting Niall O'Connor, Group Managing Director, ALDI Ireland said: "Our goal is to make a positive impact in every local community that our stores serve. Our operations and stores contribute to businesses, communities, and families right across Kildare."