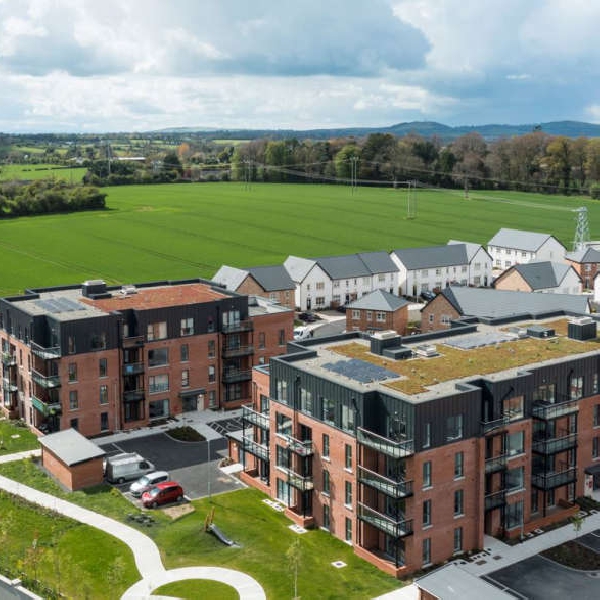 File image: The Paddocks, Newbridge via @CluidHousing/Twitter
Closes at 5pm.
Applications for 50 cost rental homes in Newbridge closes today, at 5pm.
Clúid Housing opened applications on the 27th of July.
The group noted the development will enable more middle-income households in Newbridge to access high-quality, secure homes close to their work and community.
Rents for The Paddocks, Newbridge, are approximately 25-30% below market value, beginning at €1,000 per month.
In addition to below-market rates, residents will also be provided with long-term security of tenure.
The 50 new cost rental homes are a mix of one-, two, and three-bedroom apartments, located in The Paddocks, Newbridge.
These new-build, A-rated, energy efficient properties are semi-furnished.
Each home will include white goods, including a fridge freezer, a dishwasher, an oven and hob, a microwave, and a washer dryer as standard. Roller blinds, including a blackout blind in bedrooms, are provided, in addition to laminate flooring throughout, and tiled bathrooms.
Under the Government's Cost Rental Scheme, rents are targeted at a minimum of 25% below open market value, with prices for The Paddocks homes starting at €1,000 per month.
Applicants are obliged to provide evidence of the following eligibility criteria:
• Net household income is below €53,000 per annum.
• Not in receipt of any social housing supports (including Rent Supplement or HAP)
• Do not own a property
• Household size matches the size of the property advertised (All members of the household must be living in Ireland at time of applying.)
• Applicants can afford to pay the cost rent for the home
• Household has only entered one application for a specific cost rental property
Should more applications be received than properties available, completed applications will be selected at random.
The first homes will be available to move into in October 2022.