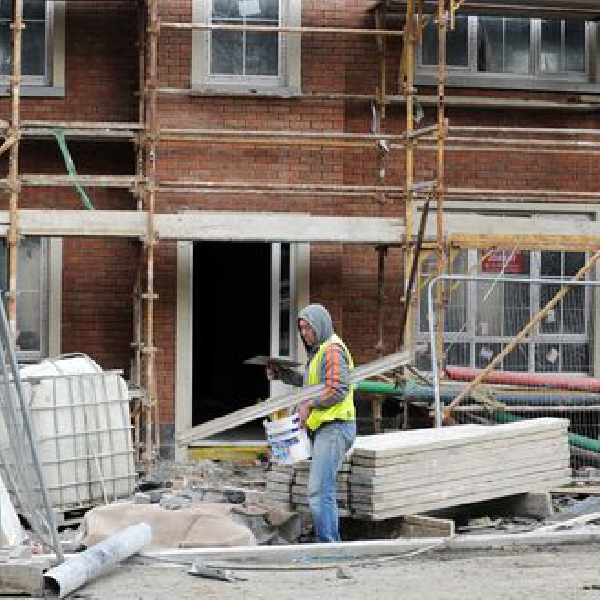 Stock image: Shutterstock
Compared with 2020 prices
The average price of a house in Co. Kildare - in the fourth quarter of 2021 - was €307,638, a year-on year increase of 11.4%.
Compared to the third quarter of 2021, house prices in Co. Kildare decreased by 0.2%.
That's according to the Daft.ie House Price Report for the final quarter of 2021.
674 was the total number of new homes transactions in Co. Kildare - a year-on-year increase of 32%.
Nationally, the average price of a house increased by 7.7% - standing at €290,998.
The number of homes available to buy in Irish market was at an all time low on the 1st December 2021, at 11,483.
A decrease of almost 4,000 compared to 2020, and the "lowest record in a series dating back to January 2007."
Co. Dublin saw an increase of 3.4%.
Co. Leitrim saw the biggest increase at 19.2%, with houses costing an average of €158,246 in the county.
Leitrim's increase also ties in with the expected move of members of the public further from work to more rural areas of the country, with rural Ireland seeing the greatest gains in house pricing.
According to author of the report, economist Ronan Lyons, "2021 ends with year-on-year inflation in all but one of the 54 markets covered in the Daft Report – the exception being Dublin 6."
County breakdown
The average price of houses (excluding of Co. Dublin) in order:
Co. Wicklow - €383,508
Co. Kildare - €307,638
Co. Meath - €301,992
Co. Waterford - €270,703
Co. Kilkenny - €262,027
Co. Wexford - €256,295
Co. Cork - €255,576
Co. Louth - €249,525
Co. Westmeath - €244,409
Co. Galway - €241,335
Co. Kerry - €229,574
Co. Carlow - €228,590
Co. Offaly - €225,152
Co. Clare - €219,745
Co. Laois - €218,219
Co. Limerick - €215,173
Co. Tipperary - €208,980
Co. Monaghan - €208,932
Co. Mayo - €185,864
Co. Cavan - €183,454
Co. Donegal - €177,740
Co. Sligo - €172,192
Co. Roscommon - €171,621
Co. Longford - €168,327
Co. Leitrim - €158,246
Major Cities
Average list price and year-on-year change – major cities, Q4 2021
● Dublin City: €405,259 – up 3.4%
● Cork City: €313,436 – up 5.5%
● Galway City: €322,543 – up 1.6%
● Limerick City: €234,908 – up 6.4%
● Waterford City: €211,023 – up 7.5%