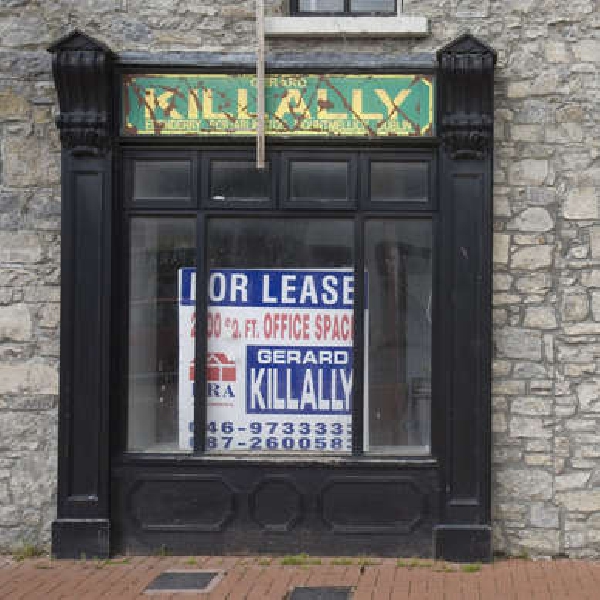 File image: Rolling News
The county with the lowest commercial vacancy rate was Meath at 10.2%
The commercial vacancy rate in Kildare stood at 14.2% in June 2023, according to the latest GeoDirectory Commercial Buildings Report. This represents an increase of 0.3 percentage points (pp) compared to June 2022.
Of the towns in Kildare analysed, Leixlip had the highest commercial vacancy rate in June 2023 at 16.5%, while Maynooth had the lowest at 12.0%
The report, prepared by EY, found that the national commercial vacancy rate stood at 14.1% in June 2023, a marginal increase of 0.2 percentage points (pp) when compared to the same period in 2022. The national commercial vacancy rate is the highest level recorded by GeoDirectory since it began reporting on the rates in 2013.
Commercial vacancy rates increased in 20 out of 26 counties in the twelve months to June 2023, with a total of 29,798 vacant commercial units recorded across Ireland.
County Commercial Vacancy Rates
The analysis shows that there remains a wide disparity in vacancy rates across the country, a trend observed in previous GeoDirectory Commercial Buildings reports. At 19.9%, Sligo was the county with the highest commercial vacancy rate, followed by Galway (18%), Donegal (17.9%), Mayo (17.3%) and Roscommon (16.9%).
The county with the lowest commercial vacancy rate was Meath at 10.2%, followed by Wexford at 10.6% and Kerry at 12.2%.
Notably, Dublin recorded an increase of 0.5pp in the year to Q2 2023, with the commercial vacancy rate in the capital rising to 13.1%.
This trend continued in the Greater Dublin Area where vacancy rates increased from 12.6% in Q2 2022 to 13.0% in Q2 2023. Galway recorded the largest increase in vacancy rates, increasing by 0.8pp from 17.2% in Q2 2022 to 18.0% in Q2 2023.
All four provinces in Ireland reported an increase in overall vacancy rates, with Connacht having the highest rate at 17.9%, which is 3.8pp above the national average.
Connacht also recorded the highest increase of the four provinces in the 12 months to Q2 2023, rising by 0.5pp.
Ulster reported a vacancy rate of 15.7%, increasing 0.3pp from Q2 2022. Munster's vacancy rate remained relatively the same, only increasing by 0.1pp to 13.9% in the 12 months to Q2 2023 Leinster excl. Dublin had the lowest vacancy rate amongst the four provinces (13.0%), increasing by 0.2pp from Q2 2022.
Analysis of Commercial Vacancy Rates in Towns
The report found that Ballybofey, Co. Donegal, remained the town with the highest commercial vacancy rate in Ireland at 29.9%, registering a decrease of 0.2pp between Q2 2022 and Q2 2023.
Shannon, Co. Clare and Edgeworthstown, Co. Longford, recorded the second and third highest commercial vacancy rates in the country at 29.4% and 29.2% respectively, followed by Boyle, Co. Roscommon (27.6%) and Sligo Town, Co. Sligo (25.4%).
In the twelve months to June 2023, Greystones and Carrigaline switched positions in the ranking of lowest vacancy rate with Greystones, Co. Wicklow now having the lowest vacancy rate in the country at 6.8%, 0.9pp lower than Q2 2022. Carrigaline, Co. Cork had the second lowest vacancy rate at 7.5%, followed by Gorey, Co. Wexford at 9.3%.
Commercial Address Points by Sector
There were 180,809 occupied commercial address points in Q2 2023, representing a decline of 874 on the corresponding figure in Q2 2022. Of these, 86.1% were allocated to a specific sector The number of commercial units classified to an economic sector declined by 1,999 between Q2 2022 and Q2 2023. The Services sector was hit the hardest, suffering a decline of 876 units, followed by the Retail and Wholesale sector which suffered a decline of 603 units.
The analysis also found that within the Services sector, the Accommodation and Food Services sector accounted for 14.4% (22,481 units) of all commercial address points in Ireland in June 2023. Kerry, at 24.5%, was the county with the highest shares of Accommodation and Food services units followed by Clare (20.6%), Donegal (19.2%), Leitrim (18.8%), Mayo (17.8%) and Galway (17.8%).
Despite the continued decline in Retail address points, Retail and Wholesale remained the second-largest sector in terms of occupied commercial premises with 34,481 commercial address points.