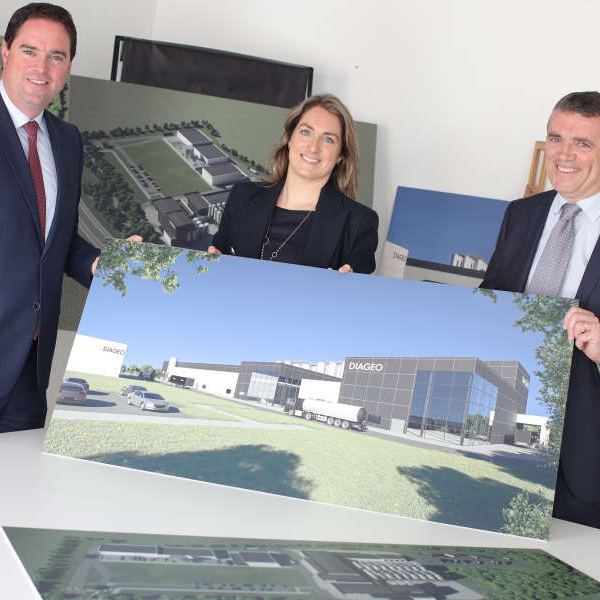 That's according to the Irish Times
Diageo has warned that further delays to its planned carbon-neutral brewery for a greenfield site outside Newbridge "will jeopardise the rationale for this €200m investment in Ireland", according to the Irish Times.
A spokeswoman for the Guinness producer made the comment on Thursday arising from An Bord Pleanála informing parties that a decision on the case has been deferred until November 20th.
Diageo secured planning permission for the project in March, however an appeal by Athy man John Lynch in late April has stalled the project.
An Bord Pleanála initially pencilled in a decision date for August 28th.
However, in its letter to involved parties, An Bord Pleanála said that it "has not been possible to determine the case within the statutory objective period due to a current significant backlog in cases at board level".
The letter added that "this backlog has arisen in the context of reduced capacity at board level in the first half of 2023 due to a turnover of board personnel in that period".
The letter also said that "capacity at board level has since been restored by appointments of new members and the board is now addressing the existing backlog of cases. The board regrets the delays in determining cases".
The Diageo spokeswoman said: "We are deeply concerned that An Bord Pleanála has extended the period for it to determine the case for Ireland's first purpose-built, carbon-neutral brewery in Kildare to November 20th."
"This project is time sensitive and further delays will jeopardise the rationale for this €200 million investment in Ireland, to grow our global beer brands while meeting our targets to be Net Zero by 2030," she added.
The spokeswoman remarked that "the benefits of the project to the local community, Irish jobs, trade and sustainability are compelling".
The planned brewery for Littleconnell is projected by the company to provide a major jobs boost providing up to 1,000 jobs during the 20 month construction period and lead to the creation of a further 70 jobs when operational.
However appellant, John Lynch believes that the brewery should instead be built in Athy.
In response to the Lynch appeal, McGill Planning has asked An Bord Pleanála, on behalf of Diageo, that it be dismissed.
McGill Planning has said that a separate appeal by Sustainability 2050 should be declared invalid as the appellant made no submission when the case was before the local authority.
You can read the full article in the Irish Times here.