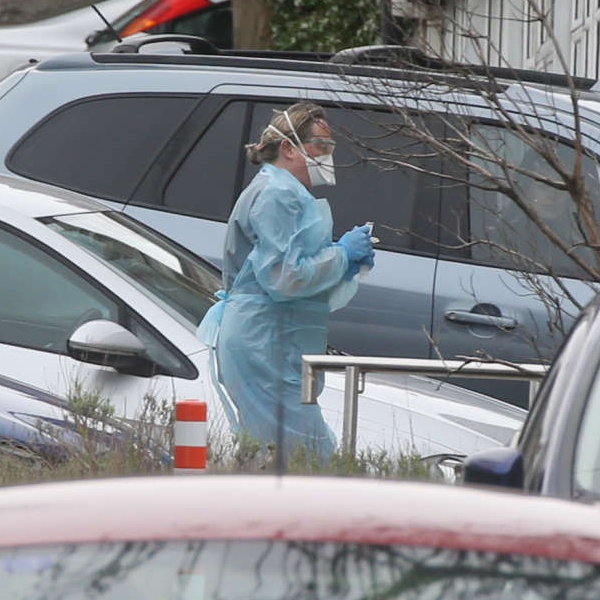 File image: Rolling News
€1,000 bonus announced in January 2022
On the 19th of January this year, Cabinet approved a tax-free once off payment of €1,000.
The HSE confirmed "Eligible employees must have been employed between 1st of March 2020 and 30th of June 2021 and have been identified as working in COVID-19 exposed healthcare environments.
For part-time employees, the payment will be pro-rated on the following basis:
1. Employees whose contracted hours are equal to or greater than 60% WTE for their grade shall receive €1,000;
2. Employees whose contracted hours are less than 60% WTE for their grade shall receive €600. Employees who worked less than 4 weeks in the specified period are not in scope."
The Alliance of Health Care Assistants in Ireland & Nursing Homes Ireland have called the delay of payments for those working in the organisations as unacceptable.
8 months after the announcement, they are yet to receive payment.
The mission of the Alliance of Health Care Assistants is to "advance education and to promote, assist, encourage and develop a culture of the highest quality of care within the Health Care Profession for those in care and the wider community."
Chairwoman of the Alliance, Clare Doyle spoke to 'Kildare Today' on Wednesday morning.
She noted the payment has been made to HSE workers - "which is brilliant & rightly so".
Ms. Doyle, a nurse by profession, now teaches healthcare assistants.
She confirmed the AHCAI contacted the HSE for clarity on the payment, on 17th of February, 14th March & 23rd May this year.
They did so quietly as they specifically did not "want it to be an issue in the public arena" because they "didn't want to draw negative attention".
But the organisations found out last week, the Government had decided to tender out the payment - "in effect they are paying a third party organisation" to decide on how to make the healthcare payment.
This is not just for health care assistants she notes, but also ambulance staff & some nurses.
In terms of those who have not yet received payment Ms. Doyle noted the HSE said the reason it is difficult to manage the payments is, "the risk of double payments or that there are complex issues".
Ms. Doyle noted "we all have PPS numbers, surely you can align a payment with an individuals PPS number, it can't be that difficult".
One Healthcare Assistant's early pandemic experience
Ms. Doyle quoted one healthcare staff assistant's experience during the pandemic, reflecting the impact:
"I think it is very unfair we have been left waiting so long for the recognition of all the work we did".
"It's been detrimental to our mental health facing the unknown, and returning to our family & young children.
Seeing the number of cases, and deaths on TV every night, seeing Italy being over-whelmed, seeing body-bags & abandoned nursing homes in America & still choosing to face the unknown. Still choosing to risk mine & my family's health for what I believed was the right thing - and I would do it all over again regardless of a bonus or not.
But I believe the Government should have honoured their word, like so many of us have, and faced the unknown for the most vulnerable in our communities".
Listen back to Clare's full interview with Eoin Beatty: