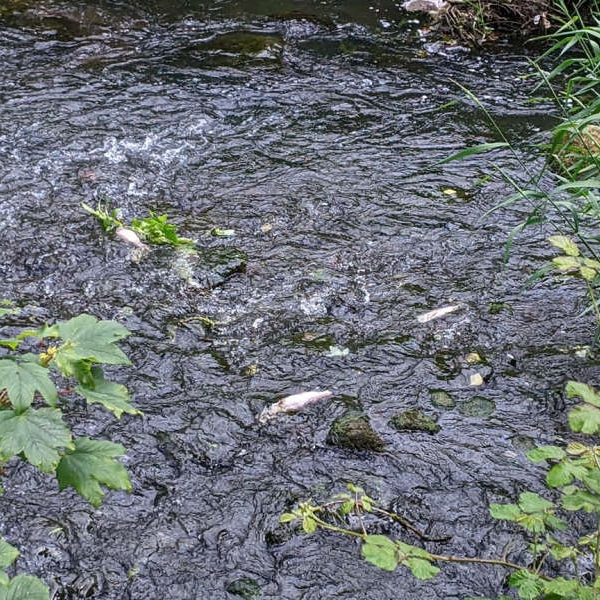 File image: Catherine Murphy TD/ via Facebook
An investigation has been launched into water pollution in the river.
An investigation has been launched following a serious fish kill incident at the River Rye Water in Leixlip, according Inland Fisheries Ireland, the state agency responsible for the protection and conservation of freshwater fish and habitats.
Water and fish samples were taken from the scene and removed for scientific analysis at an independent laboratory, said Inland Fisheries Ireland.
It estimates that there could be in excess of 500 mortalities of Brown trout plus other fish species in the impacted 2km (approximately) of river.
It said investigations are ongoing and Inland Fisheries Ireland is not in a position to comment on the cause of the fish kill at this stage, pending further analysis of samples taken.
Environmental and Fisheries Officers from the Eastern River Basin District in Dublin were alerted to the incident on the evening of Wednesday, June 8th.
Kildare North TD Catherine Murphy commented:"The river is a salmon spawning site, a trout nursery, and is absolutely essential for biodiversity in the area.
"Pollution on this scale can cause damage that will last years. It's absolutely unacceptable.
"I've been informed that Kildare County Council and the Environmental Protection Agency were on site late last night [Wednesday].
"Inland Fisheries Ireland have also taken water samples for analysis.
"The results of which will determine the course of the investigation into the spill," she added.
Cllr.Joe Neville and local resident Dylan O'Flynn spoke with Eoin Beatty on Friday morning's Kildare Today, they discussed the scenes they have witnessed in the Rye River over the last few days: