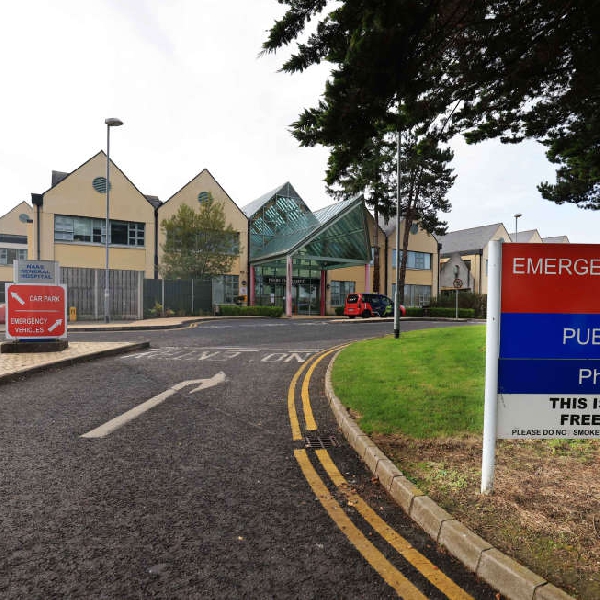 File image: Naas General Hospital
Follows broadcast of last night's RTÉ Investigates programme
3 separate investigations are being carried out, by the HSE, Irish Medical Council & An Garda Síochána, into the alleged sexual abuse by former anaesthetist at Naas General Hospital, Dr. Aamir Zuberi.
On Tuesday night, RTÉ Investigates programme broadcast a documentary on the alleged incidents, which involved 4 patients.
The incidents of alleged abuse are believed to have taken place between 2016 & 2017.
Dr. Zuberi is reported to have began work at the Co. Kildare hospital in 2012.
The complaints were made against Dr Aamir Zuberi, an anaesthetist working at Naas General Hospital since 2012.

There are four known victims.

Dr Zuberi was put on administrative leave pending investigation. In 2019 he left and returned to Pakistan.#RTEInvestigates #rtept pic.twitter.com/z0cWysPysk

— RTÉ (@rte) November 23, 2021
During the broadcast it was noted hospital management were not believed to have been made aware of the claims until December 2017.
One alleged victim noted he was first made aware of the claims by Gardaí.
Michael, a pseudonym, was allegedly abused following appendix surgery.
Discussing the claims Michael said "I can't switch it off", continuing "at night I have crazy dreams", "the fact they said you're in safe hands".
The programme also interviewed Dr. Bernard Norman, Consultant Anaesthetist with the British Health Service, the NHS.
Dr. Norman said that the whole process of an appendix surgery - including the time an anaesthetist will spend with a patient prior & post surgery - will take between 1 & a half to 2 hours.
Michael did not come back to his hospital bed until 9 hours post surgery.
His wife noted he was "still very much out of it" when he returned to the ward.
When contacted by Naas Gardai, approximately 2 years following the surgery he was told there is "no easy way to tell you - we know during your time in Naas you were sexually abused by the anaesthetist".
The gardai confirmed there were witnesses to the alleged abuse.
Michael's wife, given the pseudonym of Aisling, said 3 or 4 nurses reported their concerns to hospital management.
She discussed hearing the news saying "I was physically throwing up, you know we trusted them - we were putting our lives in their hands".
A few days later Michael provided a statement to Gardaí.
Although he could remember very little, he did remember waking up post-surgery in the dark, with a faint light in the background.
He said he remembered his left knee sticking up, with his left foot on the bed & his right knee sticking out on the other side of the bed.
He didn't think much of it at the time, adding that it was "very difficult to be 100% - that's the worst part of all of this".
Another shock to Michael, hearing the news that Dr. Zuberi had been placed on administrative leave by the hospital.
Michael is alleged to be the fourth patient to be abused by Dr. Zuberi, at Naas General.
He added that in the 4 years since the alleged abuse, he has not had any contact from the HSE or Naas General, saying he hasn't "got the words to say how I feel about Naas hospital".
Sexual Abuse Prevention Consultant, Kieran McGrath spoke about sexual abuse when unconscious saying "it's the very fact of not knowing that makes it worse" as victims run through all the 'what ifs' in their own heads.
Mr. McGrath said "it's a kind of re-abuse" in terms of dealing with the aftermath of sexual abuse when unconscious, adding it "is like re-experiencing".
Michael concluded his interview saying "I can't deal with trusting anybody anymore".
"It's been a nightmare" @aoifehegs hears from a man whose life has been turned upside down since gardaí told him he was allegedly sexually assaulted by a doctor while under anaesthetic at Naas General Hospital | #rteinvestigates | #rtept | Read more: https://t.co/Ne98vlQbuu pic.twitter.com/N6w31YHQ1f

— RTÉ Prime Time (@RTE_PrimeTime) November 23, 2021
Prior to broadcast, the programme contacted Dr. Zuberi via email, but did not receive a response.
It was noted the day after the broadcaster contacted Dr. Zuberi's employer at the time - the Aga Khan Health Service in Pakistan - he had submitted his resignation, citing personal reasons.
During investigation, the programme was made aware of Dr. Zuberi's former employment at a leading hospital elsewhere in Ireland.
RTÉ Investigates asked Naas General if it had informed the other hospital about the claims.
The HSE said Naas General has been strongly advised it cannot comment on the situation, as it may unfairly prejudice the current investigation.
The programme understands no formal review has taken place.
Investigating officers say they are liasing with Interpol on the matter, and are not in a position to comment in detail at this time.
Ireland currently has no extradition agreement with Pakistan.
"If a patient is living in a non-EU country and there is no provision for the notification.... such patients are exposed to risks that the patient within the EU would not be subject to.

You're less protected because of where you live."#rteinvestigates #rtept pic.twitter.com/SF685fnE2o

— RTÉ (@rte) November 23, 2021
Dignity 4 Paients Helpline: 086 165 4111 (Mon-Thurs 9.30am-5pm)
HSE Information Line Naas General Hospital: 045 849 570 (Mon-Fri 9am-5pm)