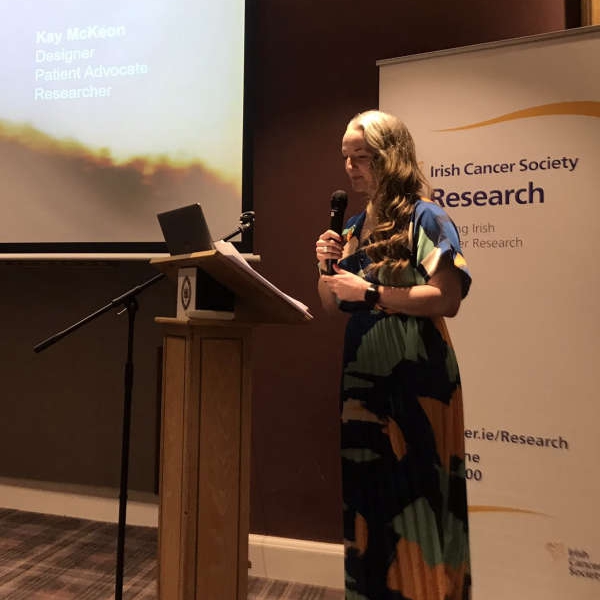 File image: Kay McKeon Twitter
Leixlip resident & cancer survivor honoured for her 'phenomenal' contribution to Cancer research
A Leixlip-based woman who used insights from her own experience of breast cancer to help inform innovative resources for other patients was honoured at the Irish Cancer Society Research Awards on Monday.
Kay McKeon was awarded the title of Patient & Public Involvement (PPI) Champion of the Year in recognition to her contribution to a number of developments, including an eHealth portal to address information deficits for those affected by cancer, and further new patient information literature.
A graphic designer by background, Kay was described in her nomination for the award as someone who brings an 'openness, honesty and ability' to the various research projects in which she has been involved.
Originally from Dublin but now living in Kildare, Kay was diagnosed with breast cancer at the age of 39 while living in New Zealand in 2017.
After returning home, Kay wanted to use her design expertise to help others going through a similar journey, and she says becoming involved as a PPI representative has proven 'life-changing' for her.
"Getting into research actually completely changed my career because I decided it's an area I want to work in, so I did a masters in design research and focused on breast cancer as my masters project," explained Kay, who has worked extensively with the Irish Association for Cancer Research in the areas of patient advocacy and PPI.
"The information deficits that I and other patients have experienced inspired that research. It changed my life, and I love that I can use my design work to help others. It's something I'm really passionate about, and as long as I'm helping patients with healthcare and communication then I'm happy," added Kay.
Congratulating Kay on her award, Irish Cancer Society Acting Head of Research Dr Claire Kilty said: "It's phenomenal to see the huge range of projects Kay has been involved in through her PPI work.
"She is someone who has taken to it with remarkable energy, and her story provides a great example of how satisfying involvement in the research process can be for patients, as well as the importance of including patient perspectives in the development of new resources that can benefit others.
"It's a real testament to the work of our dedicated cancer researchers around Ireland to see such a flourishing environment for forward-looking research projects as evidenced by this year's winners, and it's great to be able to recognise the incredible effort they put into making people's lives better at such a difficult time," she added.
The 2023 Irish Cancer Society Research Awards was the first event to be held in person since before the pandemic in 2020.
The event comes ahead of the return of the Society's Daffodil Day fundraiser on Friday March 24, which provides crucial support for ground-breaking cancer research.
For information on how to give or get involved, click here.
Kay even managed to find her husband and squeeze in a wedding, listen back to the full interview from Wednesday morning's Kildare Today with Eoin Beatty: