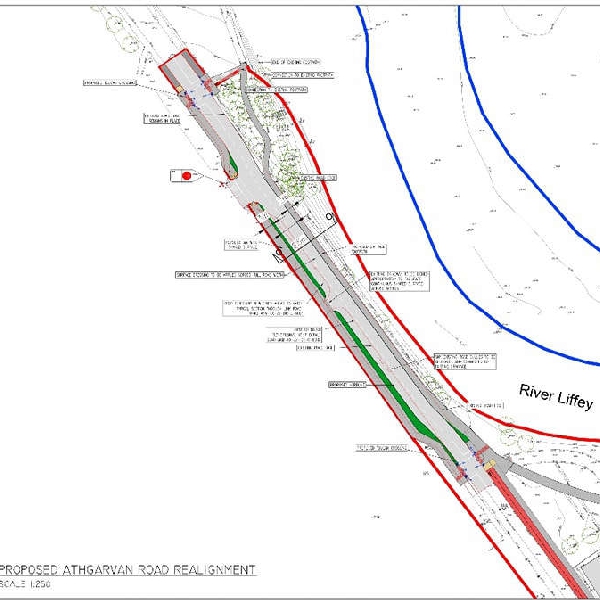 File image: Proposed re-alignment Athgarvan Road via @ChrisPenderKE/Facebook
Road to be re-aligned
Kildare County Council have confirmed the proposed re-alignment of a footpath to link the road between Belin Woods estate & the Liffey Linear Park, in Newbridge.
On Tuesday evening, Kildare-Newbridge Cllr. Chris Pender confirmed the receipt of email confirming the allowance of "a 2m wide footpath to be installed on the river side of the road between Belin Woods and The Gables this linking both linear amenities."
Speaking to 'Kildare Today' on Wednesday morning, Cllr. Pender noted "it seems as though the plans have been agreed by Kildare County Road Development & the developers Glenveagh, themselves, that the footpath that was on the initial plans" (from a previous Ardstone Development).
Cllr. Pender continued saying "they have re-instated & redesigned it so it will meet what the original plans were" giving continued linear access to Liffey Linear Park.
Earlier this year, residents met with Glenveagh regarding the issues - Cllr. Pender noted the work of local group, Newbridge Community Development who organised the meeting with residents, the property developer & Kildare County Council earlier this year.
Works are expected to conclude within the next 3 months.