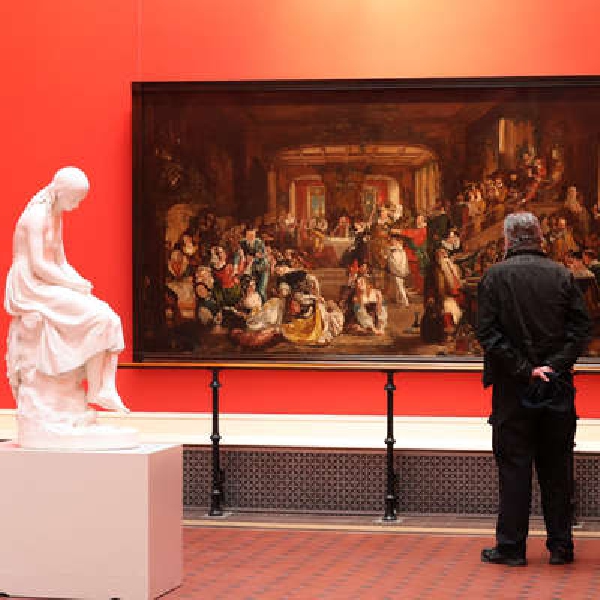 File image: Rolling News
The 14 year old has been awarded the prize for a portrait she painted of her father.
The Kildare artist was announced as the winner of the overall national competition with portrait of her father.
The young artist from Kilcullen,Della Cowper-Gray, age 14, won the National Gallery of Ireland's Zurich Young Portrait Prize.
Her painting 'My Father the Artist' , was announced as the winning portrait at a virtual ceremony.
In her artist's statement, Della Cowper-Gray said:"This is a portrait of my father the artist, observing the world around him. It is a different world now since COVID-19 and artists have been greatly affected.
"I wanted to convey that struggle through his expression. The world has changed and so too has the world of the artist,"she said.
As well as a personalised wooden box of high quality art materials, the prize includes a €500 cash prize.
Judges for the Zurich Young Portrait Prize were visual artist Aideen Barry; artist, art teacher and activist Joe Caslin; and Tadhg Crowley, Senior Curator: Education + Community at the Glucksman.
Joe Caslin commented: "The stories in the Zurich Young Portrait Prize are beautiful, hard and carefully executed. These portraits are a snapshot of a difficult year. Congratulations to all of the artists."
The Zurich Portrait Prize exhibition, featuring the winning portrait alongside 23 other shortlisted works, is now open at the National Gallery of Ireland.
It will run until 3 April 2022 alongside the Zurich Young Portrait Prize exhibition of 20 shortlisted portraits. Both exhibitions will travel to Crawford Art Gallery in Cork in 2022.
For more information click here