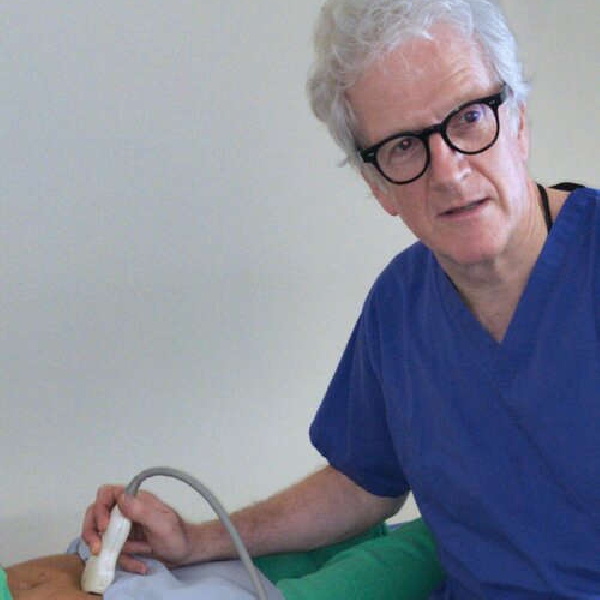 File image: Dr. Hugh O'Connor via https://www.drhughoconnorobgyn.com/
World Health Organisation notes 1 in 10 women worldwide have the condition.
While discussing endometriosis one Kildare consultant noted "historically there's been this perception your periods are going to be potentially painful & put up with it, a lot of women have done that for years & years".
According to the HSE "endometriosis is a condition where tissue, like the lining of the womb, starts to grow in other places. For example, the ovaries, the lining of your tummy and fallopian tubes."
The condition can affect women of all ages, unless post-menopause.
The World Health Organisation notes, globally, 1 in 10 women have the condition.
Dr. Hugh O'Connor, Lead Specialist at the Coombe's Endometriosis Clinic, discussed the condition on Thursday's 'Kildare Focus'.
Regarding international data on the condition, Dr. O'Connor said "it is very common", "most women will have symptoms for maybe 7 or 8 years, before they're diagnosed.
8 years, that's kind of like 100 periods, every month for all those years, before someone listens to you & checks it out."
When asked why some refer to the condition as hidden, the Kildare town native said "I suppose because women get it rather than men, if men had something similar we'd know an awful lot more about it.
I guess one of the difficulties is it can be difficult to diagnose. A lot of women will get pain during their period".
He continued, "all the traditional diagnostic tools that we use aren't very sensitive at diagnosing" the condition.
"The blood tests you might use as kind of markers, they can be off in other conditions such as inflammatory bowel disease, fibroids, so they are not terribly specific either.
A lot of the time it comes down to doing an invasive procedure, called a laparoscopy which involves a general anaesthetic, putting a telescope in through your belly button typically, and looking around the pelvis to see the lesions."
Dr. O'Connor notes this procedure can lead to diagnosis & treatment, including removal of the lesions, or the lasering of them.
But he noted a balance is needed when deciding to do a laparoscopy, where it's appropriate.
Adding sometimes the bar might be too high, as to who should require a laparoscopy.
On trying to understand if you are suffering from painful periods, or a potential condition like endometriosis, Dr. O'Connor said "in general if you've got a history of painful periods & you've tried some fairly simple standard measures & it's not working, it's time to move things along."
When asked about pain threshold & how women can decipher between pains & potential endometriosis "the typical story may be pain that may start the few days to week before your period & may peak & comes away.
You may also get pain mid-cycle at the time of ovulation."
He added, "if you are taking significant amounts of pain relief & missing work, college etc. you need to get checked out".
Listen back to Dr. O'Connor's full interview with Ciara Noble, on Thursday's 'Kildare Focus':
Ireland's Senators
The topic has recently been addressed by Irish Senators.
Dublin Senator, Lynn Ruane, is one of the group calling for better access to treatment for endometriosis.
She stated Ireland dismissed women's healthcare for so long that females have disregarded their own pain and suffering.