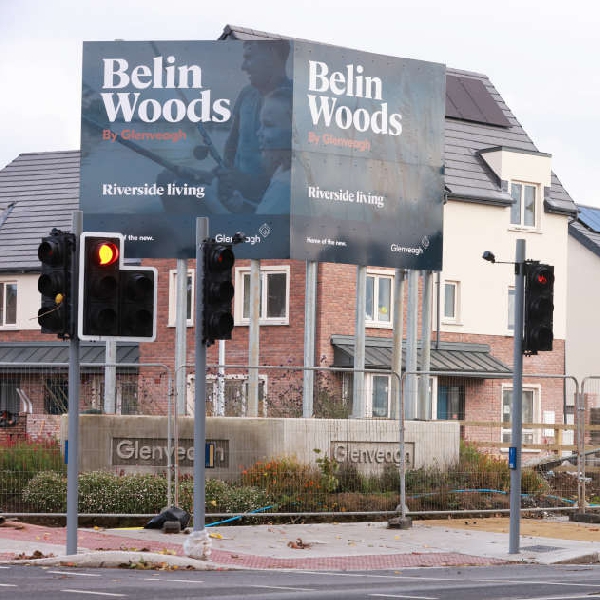 File image: Rolling News
The news comes despite a pledge by the Government in 2021 to phase the practice out
Almost 150 new homes in Co Kildare, worth €50m, are to be leased by the State from an investment fund — despite a Government commitment to end the practice.
According to the Sunday Independent, Kildare Co Council agreed to lease more than 200 homes last month, with most of the units owned by property investment fund and developer Ardstone.
Company records seen by the Sunday Independent show 38 homes at the new Belin Woods development in Newbridge are to be leased by Ardstone to Kildare County Council for the next 25 years.
Kildare County Council also agreed to lease 60 homes from Ardstone at another Glenveagh development in Leixlip, the Sunday Independent understands. The 60 units at Barnhall Meadows sold for €24.4m (including VAT) last month, according to the Property Price Register.
Kildare North TD and Social Democrats Co- leader Catherine Murphy has criticised the move as "a waste of money" which leaves the council with "no asset at the end of a 25 year lease."
After the 25 years people then could be put out of their homes, because their owned by the fund, she told Kfm.
"It's like paying someones mortgage and not ending up with a house at the end of it," she added.
Land registry files show 257 homes in new estates in Kildare were bulk-bought last month in nine transactions worth more than €90m.
Some say bulk-purchase deals make it more difficult for first-time buyers and families to compete in a market already blighted by supply issues.
Kildare North TD and Social Democrats Co Leader Catherine Murphy, spoke to Eoin Beatty on Monday morning's Kildare Today: