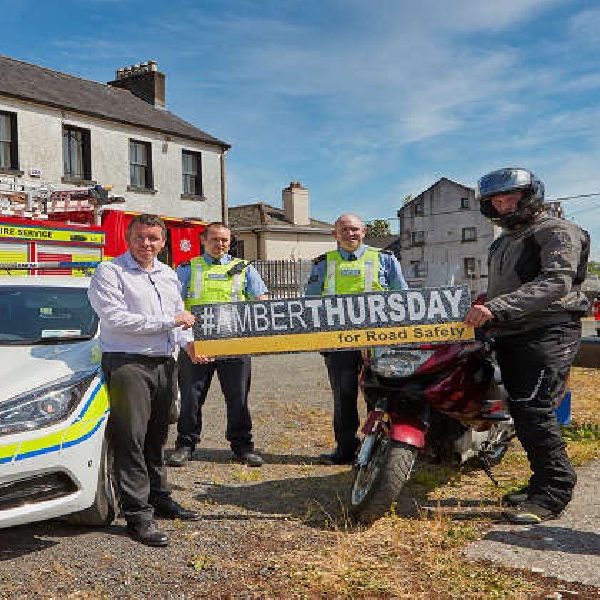 Image: Road Safety officer Declan Keogh, Garda Padraig Minnock, Sergeant Ralph Homes and Motorcyclist James Byrne/Michael O'Rourke Photography
Its a collaboration between the county's road, fire and water safety officers.
Kildare County Council is joining forces with fire, road and water safety officers across Ireland to promote 'Amber Thursday'.
Its ahead of the August Bank Holiday weekend, which is traditionally one of the busiest weekends of the year.
Last August, Lifeguards rescued 206 people at risk of drowning, administered first aid 1,780 times and reunited 140 lost children with their loved ones.
Kildare County Council's Water Safety Officer Syl Merrins said "The August bank holiday weekend is traditionally a really busy weekend with people heading to beaches, waterways or swimming pools. It is a holiday period, but it also creates a dangerous precedence in that sense. A lot of people are doing water activities, some may not be overly familiar with water and that's where a lot of problems arise. With currents in rivers and lakes, there are plenty of obstacles and risks that people aren't aware of. People should be familiar with waterways they are getting into, and you should never swim alone, and people shouldn't take anything for granted. We're not killjoys, it's important to say that but it's also important that we're careful in the water."

Long journeys can be a challenge for motorists and can lead to driver fatigue. Speeding and non-wearing of a seatbelt are also common factors which result in serious or fatal injuries of road users. Kildare County Council's Road Safety Officer Declan Keogh said "Anyone taking to the roads over the bank holiday weekend should be mindful of the many risks associated with travelling on the road. Everyone needs to share the road and be cautious and courteous towards one another."

Kildare's Acting Chief Fire Officer Chanel Ryan said "Whether you're in your garden or out camping, please barbeque safely to ensure you have an enjoyable experience and keep everyone present safe from the threat of fire. Please also be aware of the surrounding environment, particularly in very dry weather. Never place disposable barbeques on anything flammable. Please dispose of cigarettes responsibly and ensure charcoal barbeques are cooled down completely before disposal."