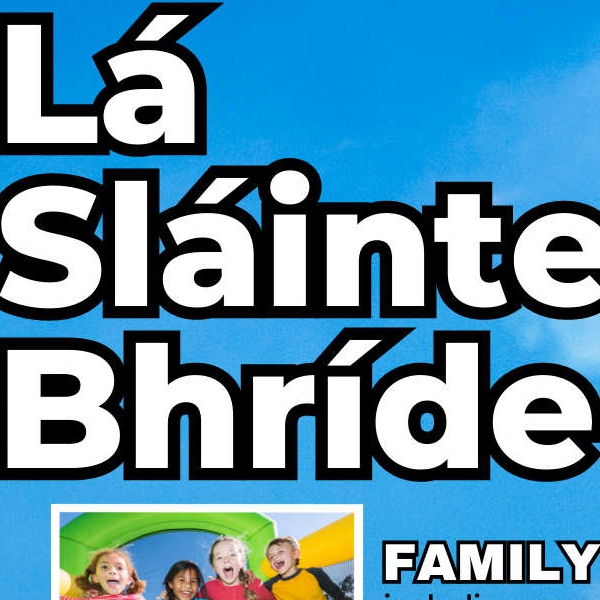 Supported by Kildare County Council's Kildare Sports Partnership and the Brigid 1500 programme
Lá Sláinte Bhríde Festival will take place at the Curragh Racecourse on Sunday 21st May 2023 from 1pm – 5.30pm.

There will be something for all the family with a host of free entertainment and activities.
The public can enjoy puppet and magic shows, try an arts and crafts workshop, or have fun with one of the many activities you will find in the family fun village and sports zone.

For the energetic, there will be a guided heritage walk, while listening to stories about Ballymany Stud, The Military Cemetery, Donnolly's Hollow, the Curragh Camp Water Tower, Gibbets Rath and Herbert Lodge, narrated by local historian Mr Reggie Darling.
The Curragh is where legend says St. Brigid spread her cloak, renowned historian, Mario Corrigan, will deliver a presentation 'The St. Brigid Story', speaking about the life and times of St. Brigid and her association with County Kildare.

To mark the end of National Bike Week, Kildare Sports Partnership will host an inclusive workshop in association with cycling Ireland, and the little ones are invited to bring along their own bikes, trikes, and tractors for the toddler's pedal parade, complete with traffic lights and Garda patrol!
The Defence forces will present the new interactive recruitment unit and you can take a look inside a Mowag Personnel Carrier.
Visit the Irish Military Vehicle Club and have a look at some unique military vehicles from around the world or drop by the Kildare Road safety vehicle to talk to our road safety officer.

Inside the splendid new grandstand at the Curragh, there'll be a Health and Wellbeing village where you can get tips and advice from partner organisations.
There is an inclusive sensory zone for those that may need some quiet time, and for older adults, you can try Activator and Nordic pole walking demonstrations, sample a seated exercise class and enjoy social games such as Indoor Bowls, Boccia, Scooch, and Cornhole.
Why not finish your fun-filled afternoon with a snack or an ice cream while you relax and listen to our free live music show which starts at 3:30pm.
For more details,
visit