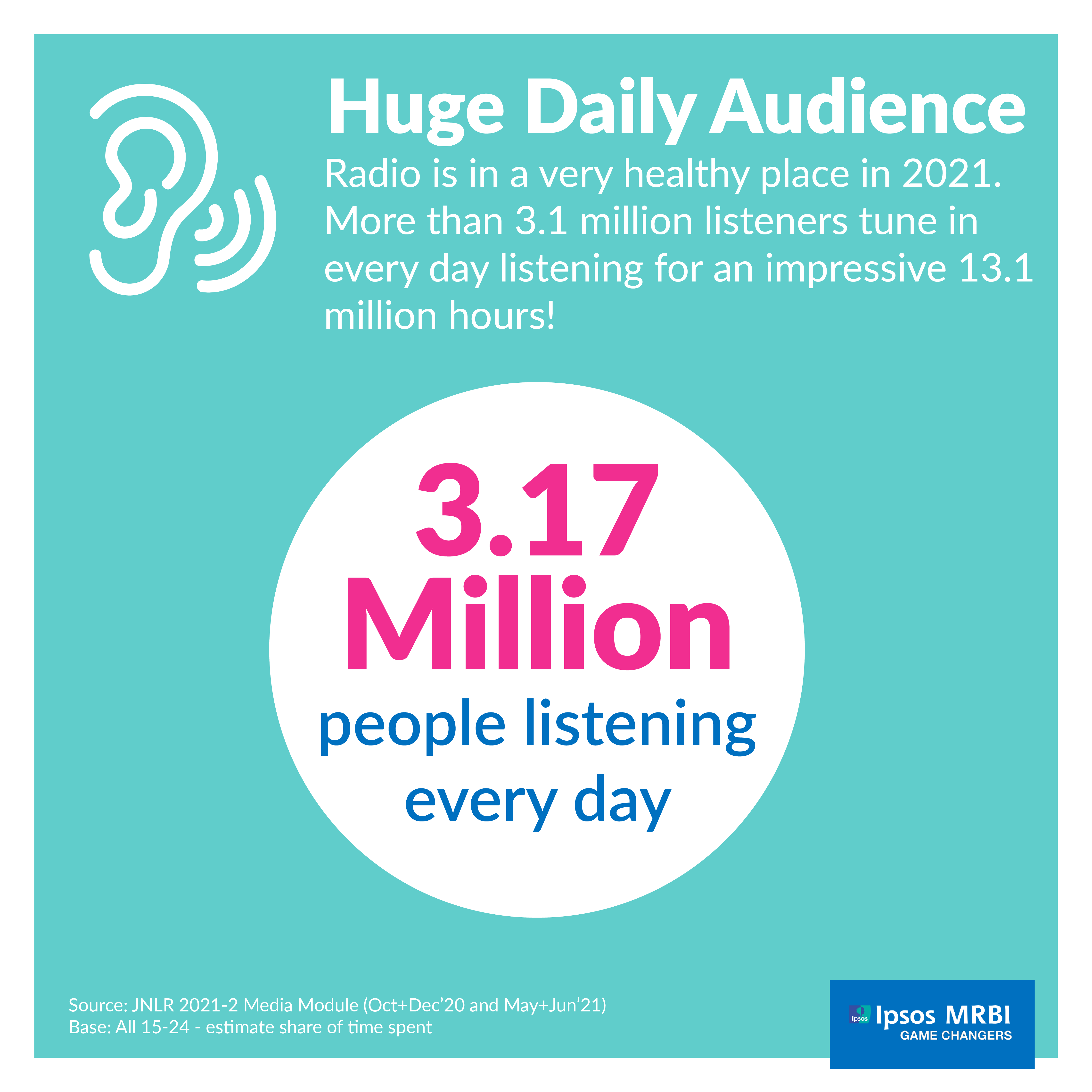 Radio enjoys huge listenership with 91% of Irish adults. Kfm adds 9,000 listeners over the 12 months survey period (Source: JNLR/Ipsos 2023-1 (April '22 to March '23)
The latest JNLR audience figures released today show that total the radio audience grew by a further 48,000 listeners. Close to 3.3 million adults are listening to Irish radio every single weekday, a record high in daily audience levels in recent years.
The JNLR report, covering the period April '22 to March '23 shows that Radio enjoys huge listenership with 91% of Irish adults and 87% of 15–34-year-olds listening to radio every week.
The daily listenership levels are also hugely impressive with the daily audience growing by a further 48,000 with almost 3.3 million adults listening to radio every single weekday, a record high in daily audience levels in recent years.
Listenership for 15–34-year-olds also increased with 69% of this age group listening every weekday, an increase of 12,000 listeners compared the previous research period (January – December '22).
Listening levels to local and regional radio continues to be very strong with almost 2.2 million adults listen to their local or regional station every single weekday.
Kfm has added another 9,000 Kildare listeners across the latest survey period which is most encouraging in a county with one of the most diverse and non-Kildare native populations nationally. These latest research numbers do not include those listening to Kfm from other counties or listening online on our website and twitter @kfmradio outside the county.
Kfm CEO Clem Ryan says: "The research results once again reflect the quality output of Kfm and the professionalism and dedication of all our staff in providing an excellent local radio service to county Kildare".
"And, of course, our advertisers fantastic support enables us to provide this service. The research results, for them, demonstrate that their commercial message is reaching the widest audience in county Kildare, and many more beyond"
Kfm Programme Director Paul Power added: "The results are a tribute to both our great team of Presenters who provide quality programmes 24/7; and, also, a huge thank you to Kfm listeners for their loyalty of Kfm"
"In recent months, we've refreshed our programme output and implemented a major review of our music to ensure we offer a service that appeals to listeners and reflects their taste and interests"
There is a steady increase of listening through devices with 5.6% of all adult listening now through a smart speaker while listening via a mobile device accounts for 3.3% of all radio listening. This increases to 7.2% of all listening through a smart speaker and 8.6% through a mobile device for the younger 15 to 34 age cohort. And, aside from our main wavelengths 97.6/97.3fm you can listen to Kfm on any and all of these devices including on www.kfmradio.com and on the Kfm App free for iPhone and Android (search Kildare's Kfm) and on smart speakers
The ability to access content easily and the quality and popularity of Irish radio is shown by this JNLR release reporting that the average adult is listening to radio content for over 4.2 hours each day.
Ciaran Cunningham CEO Radiocentre Ireland said:
"I am delighted to see radio continues to grow audience in Ireland and with 91% of adults tuning into radio every week, it is clear that radio listening is booming in Ireland and today's figures are a great reminder that Irish radio is a central part of people's lives. At a time when radio ratings in the U.S. among 18–49-year olds now exceed TV for the first time in U.S. media history, advertisers, home and abroad, continue to recognise the unbeatable reach that broadcast audio provides for their brands".
Source: JNLR/Ipsos 2023-1 (April '22 to March '23)