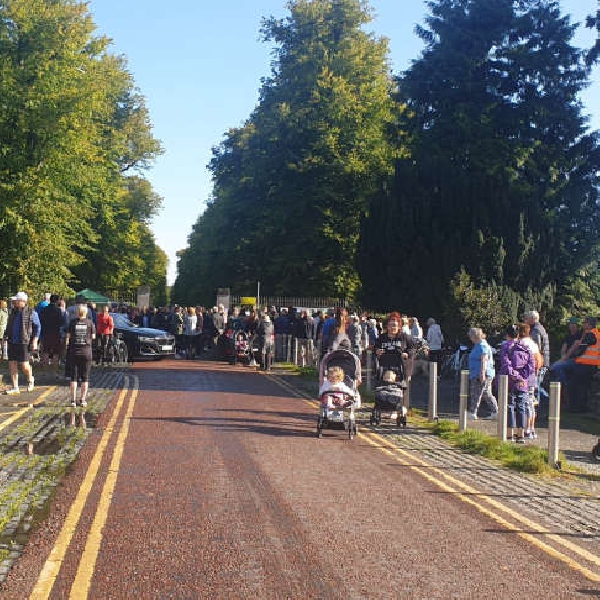 From Friday, access to the estate from the M4 gate will be closed from Friday.
Locals in North Kildare are protesting today over the restricted access and future of Castletown House.
From Friday, access to the estate from the M4 gate will be closed. Access to a car park, previously used by visitors to the estate, will also be blocked under the new arrangement.
Public access to the estate will now be reverted through Celbridge Avenue, via the town of Celbridge.
Communities in north Kildare have expressed deep concern about future development at Castletown House and Parklands, following disagreements between landowners and the Office of Public Works (OPW) over access to the historic estate in recent days.
Attempts to broker a licensing agreement – to ensure continued public access to the estate via an entrance just off the M4 motorway – broke down when the OPW and Killross Properties were unable to agree on terms.
Killross Properties completed the purchase of 235 acres of land immediately adjacent to Castletown House and its demesne earlier this year, and thus hold ownership of the lands leading to the estate from the M4 gate.
Kfm's Eoin Beatty spoke to a number of local representatives on Monday evening in relation to the access, listen back here:
Today the Chairperson of Keep Ireland Open Robert Dowds supported the protest against the imminent closure of the road access to Castletown House in Celbridge from the M4.
"This is the only access for road traffic and has been there since 2007. The new owner of the land over which the road traverses proposes to remove public access from Friday.
"The Office of Public Works intends to establish a new 'temporary' car park accessed from the Main Street in Celbridge which will be problematic for both traffic in the town centre and for people wishing to walk in that part of the grounds of Castletown House.
"Keep Ireland Open was established in 1994 with the aim of lobbying for comprehensive legislation which would protect and extend access to the countryside, mountains and the seashore for responsible recreational users.
"The removal of an established access point at Castletown House is just the latest in a long line of removals of access to the general public.
"With good legislation, similar to the British Countryside & Rights of Way Act (2000), these problems wouldn't arise.
"Providing safe and guaranteed access for the public would be a win-win all round, good for people's health and good for the local economy, especially in rural areas," he added.