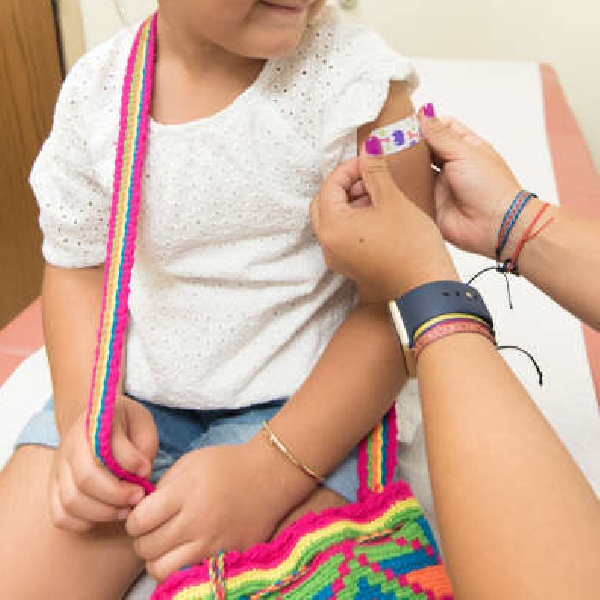 Stock image: via CDC/Pexels
Kildare mother Samantha Kenny discussed her struggle
Earlier today, the Education Minister says "significant resources" are being put in place to ensure schools open tomorrow and stay open.
The return to the classroom comes despite concerns of staff shortages due to Covid-19 measures.
But that is the least of worries for some families whose children are to return to the classroom this week.
On Monday, the booking portal for Covid-19 vaccination was expanded to children aged 5-11.
There are approximately 500,000 children of that age cohort living in the Republic.
On Tuesday morning around 30,000 5-11 year olds had been registered for a vaccine.
But parents of high-risk, vulnerable children have been expressing their frustration with registering for a vaccine.
Here in Kildare, Samantha Kenny registered her daughter Ava, 6, for a Covid-19 vaccine through the vaccine portal when it opened on 27th December.
Ava, who lives with intellectual & physical disabilities was also placed on an early vaccination list before Christmas, by hospital consultants.
Yet, that it not how Ava received a vaccination appointment.
Tune into #KildareFocus w @NiaraCoble from 2pm, to hear @Sammlesie's update on an appointment for Ava's vaccination.

So many families of vulnerable children are in similar positions - we'll speak to Sam at 2.45pm.

☎️Get in touch with us this - 08 33 97 97 97 text or WhatsApp https://t.co/3xIicymvzg

— Kfm Radio (@kfmradio) January 5, 2022
Samantha spoke to 'Kildare Focus' on Wednesday afternoon, as she was waiting outside a vaccination clinic for Ava & her sibling to receive a vaccine.
Samantha was able to secure an appointment through a friend who knew a vaccination clinic lead - not through official channels.
She noted that this is wrong, as there are so many families & children at risk currently, desperately seeking an appointment.
Sam joined Ciara Noble on Wednesday's 'Kildare Focus':