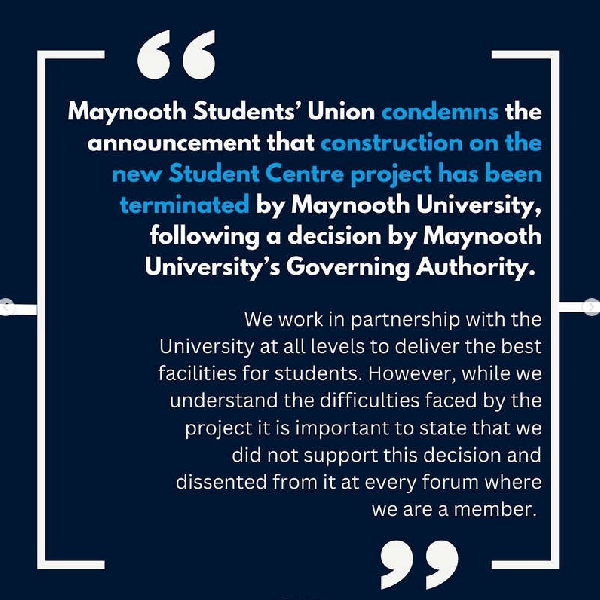 University confirmed plans abolished due to rising costs
Plans for a new campus centre for Maynooth University have been scrapped.
The University confirmed the project has been abolished due to rising costs, "linked to technical construction issues as well as hyperinflation".
Maynooth Students' Union has hit out at the decision - noting the centre was to be paid for out of student levies.
Students who attended the university between 2015 and 2022 paid a €150 sum annually towards the centre - an addition to their student contribution fees of €3,000.
On Thursday morning, Vice President of Welfare & Equality, Kealan Hilley, spoke to 'Kildare Today':
In a statement Maynooth University noted it "shares the disappointment of our students, and we are reassuring students and alumni that the student levy fund will not be affected by this decision, and that monies from the fund will not be lost because of the termination of the contract."
The University went on to note the student levy has been in place since 1992 - confirming "the levy is, and will remain, ring-fenced for student facilities projects."
Also added by the University:
"As a public sector institution, Maynooth University is a steward of public monies and we are obligated to abide by public sector spending code rules and legislation for procurement, under the Public Spending Code, the Capital Works Management Framework and the European Union (Award of Public Authority Contracts) Regulations 2016. Among these is a requirement that 'any increase in price shall not exceed 50% of the value of the original contract.' Due to the reasons stated above, the fact that the latest project costs already exceed 50% of the original contract was a key consideration for the Governing Authority decision."
The centre was expected to be completed in 2023.
The University says it "remains committed to providing students with additional spaces for informal learning and gathering that are so important for a vibrant campus experience."
In the "near term" MU confirmed funding of:
Additional social spaces for student use
Additional study spaces
Meeting pods for student meetings
Enhanced furniture in existing spaces
Additional parking near the Phoenix
New bus terminus beside Phoenix
New outdoor gym equipment beside the Courtyard Apartments
Two Kildare North TDs joined Eoin Beatty on 'Kildare Today' on Thursday, to give their views on the news.
Listen back to Social Democrat Co-Leader Catherine Murphy & Fine Gael Deputy Bernard Durkan: