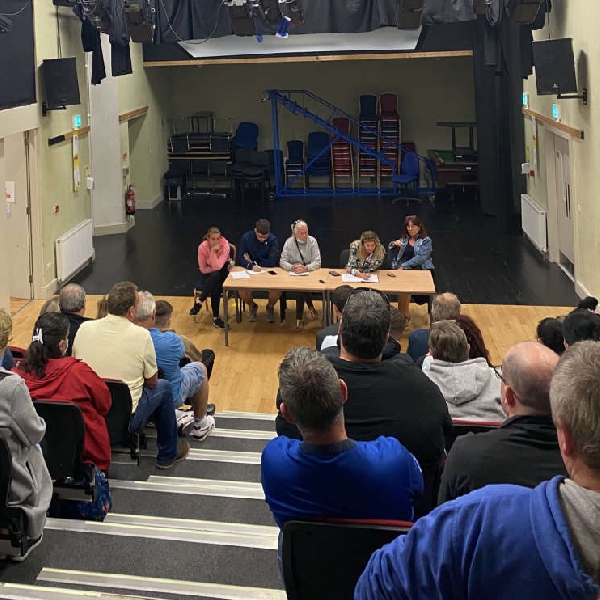 Public meeting in Rathangan Community Centre 31.08.22
Meeting described as constructive
On Monday afternoon, residents of the Beechgrove Estate in Rathangan, met with Minister for Children, Equality, Disability, Integration and Youth, Roderic O'Gorman, regarding modular homes proposed for the area.
Beechgrove resident, Roseann Sullivan called the meeting "very constructive".
She was speaking to the 'Kildare Today' programme on Wednesday morning, and continued by saying "it was actually nice to speak to someone who knew a bit more about the modular homes".
Ms. Sullivan noted it was stated surveys of the estate had taken place.
It was also confirmed that "the site was short-listed from a list given to Government & Minister O'Gorman's office by Kildare County Council".
Residents highlighted points such as lack of amenities in the area, would not be suitable for the integration of displaced people.
They also noted the financial cost of the construction, with the Minister stating he would be back in contact with residents within in a week with "exact costings".
Ms. Sullivan did note Minister O'Gorman said the construction would not be cheap.
Figures mentioned at the meeting were estimated at €250,000 - €300,000 approximately, per unit.
30 modular homes are planned for Beechgrove Estate, Rathangan, with 30 planned for Lakeside Park, Newbridge.
"A major concern is the lack of transport in Rathangan"
Ms. Sullivan noted the Minister was not aware of the fact that there is only one bus in & out of the town.
Mr. O'Gorman reportedly gave assurance to the residents that Transport Minister, Eamon Ryan is reviewing the transport issues.
Ms. Sullivan noted residents will meet again with Minister O'Gorman with details of surveys undertaken & the cost of construction.
Listen back to Ms. Sullivan speaking with Eoin Beatty on 'Kildare Today' this morning: