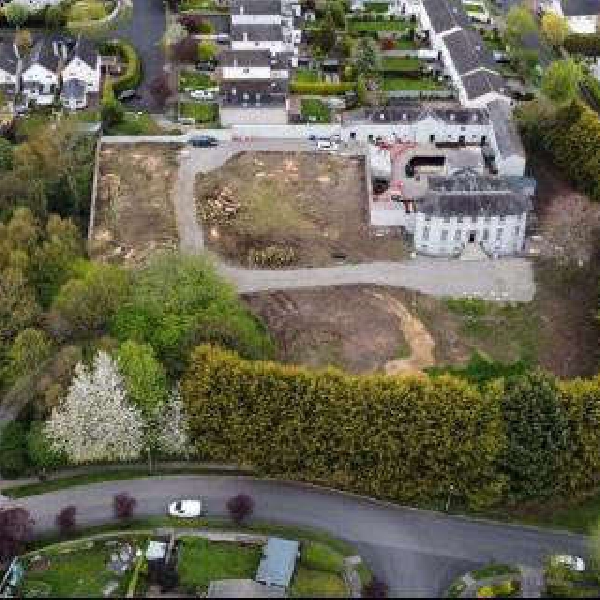 File image: @CathMurphyTD/Twitter
The house was due to house refugees
Kildare County Council has served an enforcement notice on Ryevale House in Leixlip.
The house was due to be used to house up to 80 Ukrainian refugees, that will now be halted.
It comes following complaints from residents about trees being felled and the destruction of wildlife around the house.
Roderic O'Gorman, the minister in charge of housing refugees and international protection applicants, has said he is "extremely displeased" at the actions of an emergency accommodation provider who felled a large number of native trees in Leixlip on the grounds of a centre funded by his department.
Social Democrats TD Catherine Murphy tweeted before and after pictures of Ryevale House in Leixlip.
They showed a large swathe of trees had been cleared from the lands surrounding the house that has been used to accommodate 80 international protection applicants since the end of March.
Mr O'Gorman said the "large-scale removal of trees" was "neither envisaged or sanctioned by the department."
5 Trees!!! July 2022 and Now https://t.co/dFpaBU4f7A pic.twitter.com/j7RaASt3HL

— Catherine Murphy (@CathMurphyTD) April 30, 2023
10th May Truck carrying remaining illegally felled trees from April is turned around back in #RyevaleHouse after a long stand off. Back through the @KildareCoCo land pathway of squirrel wood which has been illegally widened by 1 meter by the developer into the wood. @npwsBioData pic.twitter.com/PzlJFesGT3

— Ryevale House (@RyevaleHouse) May 11, 2023