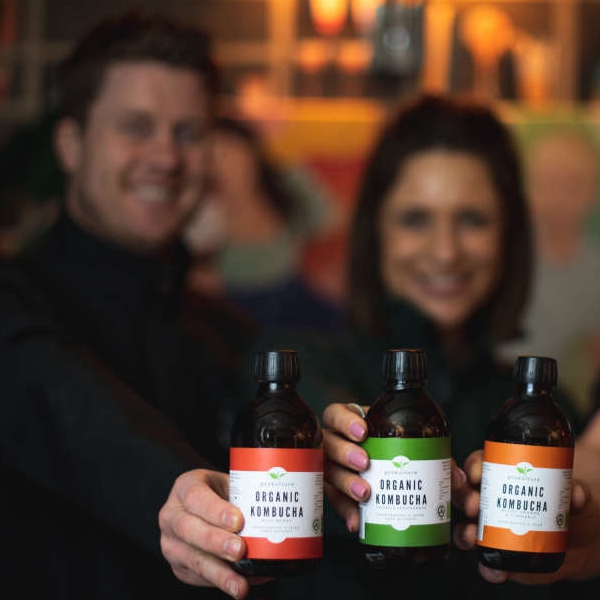 Image: Kildare County Council
Barry Flanagan of Kildare Brewing Company has received the accolade.
A renowned and innovative brewer from Sallins is this year's winner of the Kildare Enterprise Award for 2023, Local Enterprise Office Kildare has announced.
Barry Flanagan, Kildare Brewing Company will now represent Local Enterprise Office Kildare at the 23rd National Enterprise Awards at the Round Room in Dublin on the 1st June.
Having started Kildare Brewing Company and created Kildare's first ever Brewpub based at Lock 13, Sallins, Barry identified an opportunity to review his product offering as consumer trends moved increasingly towards healthy and non-alcoholic beverages.
ProKulture Organic Kombucha was initially brewed onsite in Kildare Brewing Company but now has its own 4,000L bespoke brewery in Naas. It is one of four kombucha breweries in Ireland, brewed with 100% Organic ingredients.
Kildare Brewing Company will now be competing against 30 other finalists from every local authority area for a share of the €35,000 prize fund as national judging gets underway in May. Categories this year include 'Best Export Business,' 'Best Start-Up' and 'Innovation,' along with "One to Watch" and a "Sustainability / Green" award in addition to eight regional awards.
Kildare has a successful track record at the National Enterprise Awards, winning the national title in 2019 for the second year running. Pestle & Mortar, a global skincare company from Newbridge won the top prize in 2019, and Terra NutriTech of Athy won the top prize in 2018.
This announcement comes as part of Local Enterprise Week programme of events running from March 6th to 10th. Local Enterprise Week is organised every year by the Local Enterprise Offices and supported by Enterprise Ireland, local authorities and the Government of Ireland with over 300 events taking place nationwide this year.
Speaking during Local Enterprise Week Jacqui McNabb, Head of Enterprise and Economic Development, Kildare County Council said: "We are extremely proud of the ambition and commitment to diversification deployed by Barry and his team. A commitment to sustainability was one of the key drivers for this brewing pivot. Supported by the Local Enterprise Office's Green for Micro Programme, Barry found that brewing kombucha used significantly less water than to brew beer. His market traction and success on the shelves of Aldi make Kildare Brewing Company a strong competitor for the National Enterprise Awards."
Business owners keen to look at sustainability issues or diversification in their business should engage with the Local Enterprise Office via localenterprise@kildarecoco.ie / 045 980 838