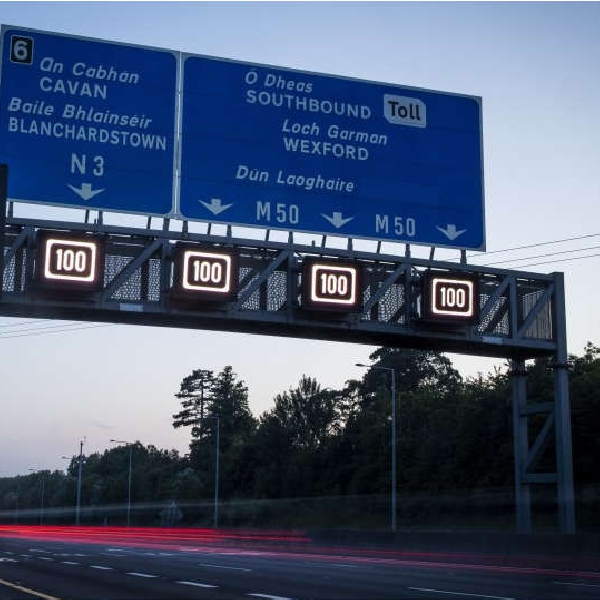 File image: Transport Infastructure Ireland
Toll charges for cars on the M50 will rise by between 20c and 30c per journey
Increased road toll charges due to come into effect next month will heap further pressure on motorists and lead to more price rises for consumers, according to Social Democrats TD Catherine Murphy.

Kildare North's Deputy Murphy, who is the party's spokesperson on transport, said: "The timing of these increases, which have been confirmed by Transport Infrastructure Ireland (TII), could not be worse and will come just weeks after the Government's phased reintroduction of excise duty on petrol and diesel.

"The M50 in Dublin, as well as eight routes on the national road network operated under a Public Private Partnership (PPI) arrangement, will see toll charges rise from July 1 when a six-month deferment of the increases ends.

"Despite the fact that it is one of the most notorious bottlenecks in the country, toll charges for cars on the M50 will rise by between 20c and 30c per journey, with regular users facing an annual increase of up to €100.
"There is simply no justification for the scale of these increases on a publicly owned motorway.

"The eight PPP routes are now set to bring in the maximum tolls allowed under their agreements.

"In terms of the PPP model, there needs to be more transparency from the Government on the risk profile for the State. We know from questioning TII in 2022 at the Public Accounts Committee that compensation was paid to two toll operators under a Traffic Guarantee Payments mechanism.

"This system is at odds with our climate action targets and is basically a bailout for the operators. TII said at the time that they expect the figure to be in the region of €104 million when the accounts are finalised.

"Ordinary people will end up paying twice for these increases, both in terms of higher tolls and through any costs passed on to consumers by logistics or distribution companies.

"In the middle of a cost-of-living crisis, these toll increases will play very badly with the public," she added.