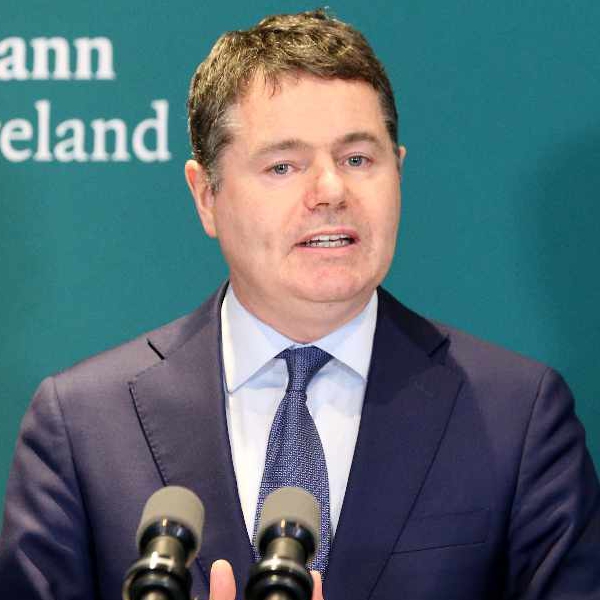 File image: Paschal Donohoe/RollingNews
Finance Minister, Pascal Donohoe, took to his feet just after 1pm today
The Finance Minister has announced a 520m tax package, as part of €4.7 billion in spending in Budget 2022.
He also says the national debt to come in just under €240bn next year, while the budget contains €230 million in revenue raising measures
Watch back for the Opening Statements from Minister for Finance Paschal Donohoe TD @Paschald #seeforyourself

Watch LIVE on Twitter, Facebook, online and on #OireachtasTV https://t.co/y1i0WI8pA2 pic.twitter.com/YfN8JIJb6F

— Houses of the Oireachtas - Tithe an Oireachtais (@OireachtasNews) October 12, 2021
The tax package means the rate at which people pay the higher rate of tax is being increased by 1,500 euro.

While the personal tax credit, employee tax credit and earned income credit is being increased by 50 euro.
The minimum wage is rising by 30c to 10.50 an hour

The ceiling for the second band of USC is rising to 21,295

The USC exemption for medical card holders and those over 70 earning less than 60k stays in place
Minimum wage rising 30c to €10.50

Higher tax cutoff raised by €1,500 (worth €300pa to average worker) with personal and employee tax credits up by €50 pppa as well

— Gavan Reilly (@gavreilly) October 12, 2021

Pascal Donohue says this will help offset the impact of rising prices for goods and services:
EWSS scheme extended in graduated rate until 30th April 2022

- No change in October and November
- businesses still availing on 31st Dec 2021 will get it until 30th April
- In Dec, Jan and Feb a two rate structure of 151.50 and 203 will apply
- March and April 2022 a flat rate of 100 euro will be inplace. Reduced employers PRSI will no longer apply
- Scheme closes to new entrants from 1st Jan 2022
EWSS staying in place until 30th April 2022. Will close to new applicants on Jan 1st. Amounts paid will be reduced on a phased basis

— Seán Defoe (@SeanDefoe) October 12, 2021
On housing, a Zoned Land Tax will be introduced applying to land which is zoned for housing and serviced but is not being developed

There will be a 2 year lead in time for land zoned before Jan 2022 and three years for land zoned after Jan 2022

The rate will be 3% of market rate

It will operate on a self assessment basis and have exemptions and will replace the vacant sites levy
The Help to Buy scheme will be retained for 2022 at current rates and reviewed next year
Finance Minister Paschal Donohue says a new tax will be introduced for land which is zoned for housing and serviced but is not being developed.
A revised motor tax system is being introduced:
- 1% increase in VRT for bands 9-12
- 2% increase for bands 13-15
- 4% increase for bands 16-20
While there's an extension of the €5,000 relief for Battery Electric Vehicles to end of 2023
A 7 euro 50 increase in the carbon tax has been announced.

Minister Pascal Donohue says the money will be used to help more vulnerable people
💼#Budget2022 Thread💼

Today's budget will:
🏥Restore our public services
📊Repair our public finances
👷Continue the recovery of our jobs and economy

Follow this thread for updates across the day🧵⛅️ pic.twitter.com/HRKzrHm9zV

— MerrionStreet.ie (@merrionstreet) October 12, 2021
On agriculture, various farming stock relief to continue

General stock relief will continue until end of 2024

The relief for young trained farmers to continue
Finance Minister Paschal Donohoe's announced other measures to help farming families.

The price of the most popular packs of cigarettes is going up to 15 euro.

Excise on a 20 pack of cigarettes going up 50c with a similar increase on other tobacco products based on their price.

Minister Donohue announced the measure a short time ago

Budget 2022 has been described as an investment in our future as the government attempts to tackle the rising cost of living.

Free GP care is being made available for children aged 6 and 7.

The price of cigarettes and fossil fuels has gone up as welfare payments get a boost from the Government.

Our Political Correspondent Seán Defoe reports:

"Minister Paschal Donohoe signalling the end of pandemic politics and a return to a normal budget.

A 5 euro rise across the board in social welfare payments and the pension is offset by increasing carbon taxes.

Income tax rates have been changed to increase the point at which people will pay the higher rate.

Sinn Féin's Pearse Doherty, paraphrasing Winston Churchill, has described the budget as a con job:

Other standout measures include price freezes for childcare, free contraception for women aged between 17 and 25 and half price transport for people aged under 24.

Ministers resisted the urge to splurge with a smaller than expected deficit, sticking largely to the well-leaked plan."
Today's Budget announcement gave a preview into the government's priorities ahead of the upcoming Climate Action Plan https://t.co/TuytpOzgDX

— TheJournal.ie (@thejournal_ie) October 12, 2021


Fuel allowance increasing by €5 a week
€5 a week is being added to the state pension.

There's also a €3 a week increase to the living alone allowance.
There's €5 a week for working age welfare payments including 5 euro for young jobseekers

Minister Michael McGrath says this will help protect the most vulnerable citizens into the future:
Parents benefit increase by 2 weeks to 7 weeks from July next year
A record 716 million euro is being invested in childcare next year.

Public Expenditure Minister Michael McGrath says this budget represents a turning point in the state's approach to childcare.
There's a €10 increase on the back to school allowance and on the working family payment

The Domiciliary Care Allowance goes from 3 to 6 months

The rate of wage subsidy scheme for disabilities will rise by €1 a week
980 new teachers will be hired, while more than 1,000 SNAs will be taken on.

Public Expenditure Minister Michael McGrath says special education funding is at its highest point in the State's history
Watch back for the Opening Statements and Reactions to #Budget2022 from Ged Nash TD @geraldnash on behalf of the Labour Party #seeforyourself

Watch LIVE on Twitter, Facebook, online and on #OireachtasTV https://t.co/y1i0WI8pA2 pic.twitter.com/PFO2Qooaiw

— Houses of the Oireachtas - Tithe an Oireachtais (@OireachtasNews) October 12, 2021
.