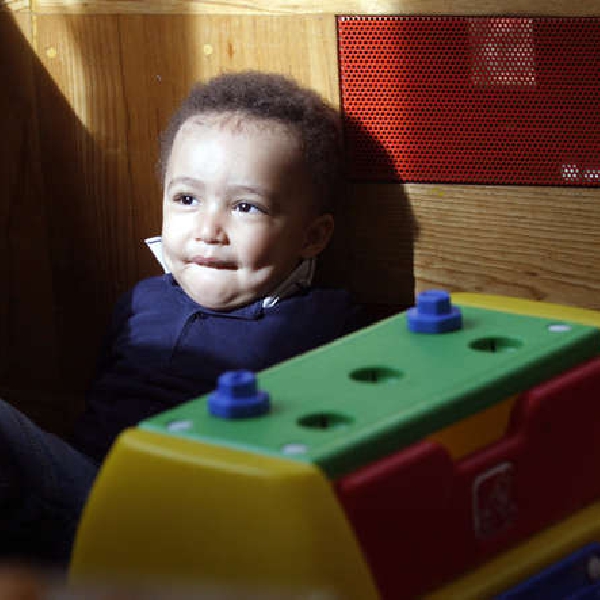 File image: Rolling News
The sector says they haven't received a pay increase from government in over 12 years.
Childcare providers are threatening to close for a number of days this autumn, if a fee freeze is introduced.

It comes after the Taoiseach said measures to cut costs for parents will be introduced before Christmas, but Micheál Martin failed to provide any further detail.
Tánaiste Leo Varadkar has indicated that the Government will prioritise reducing the 'enormous cost' of childcare in October's Budget.
However, hundreds of childcare providers are expected to protest outside Leinster House tomorrow, calling on the Government to stop September's planned fee cap and to increase funding for Early Childhood Care and Education (ECCE) programme operators.
Elaine Dunne, chair of the Federation of Early Childhood Providers, said the €221 million pledged by the State in funding for the childcare sector, which businesses will only receive if they sign up to freeze their fees at last September's rates ,won't go far enough to help struggling providers.

Speaking on Kildare Focus, Ms Dunne told Kfm: "We are calling for the government to take a stand with us and do something from the protest.
"If that doesn't happen then obviously we will have to take a stronger stance, and that will mean that service providers will close their doors for three days in September.
"That's the way it's going to continue until somebody starts to listen," she insisted.
"ECC are fully government funded but we've had one pay increase in 12 years.
"12 years ago we would have charged €75 a week from 9am to 1pm. And we're now getting €69 euro from government 12 years later, that's €4.30 an hour.
"Out of that we have to pay staff and all the costs. It's unsustainable," she added.
The demonstration, protesting the lack of Core Funding awarded to ECCE Preschools, takes place at Leinster House from 11.30am on Wednesday 22nd June 2022.
The sector's is calling for the following issues to be addressed:
A subsidy of €100 per child on the ECCE scheme is needed, to cover actual costs currently subsidised by the childcare owner.
ECCE capitation, the Government subsidy for early-learning support, has increased by only 7% since 2010, and has never been index-linked.
Government must increase childcare provision funding to the UNICEF recommended level of 1% of GDP; currently at just 0.2% of GDP, Ireland lags behind the majority of western Europe.
Every additional €1.00 an hour paid by ECCE providers costs €665.76 a year; €1 x 15 hours x 38 weeks + PRSI 8.8% and annual leave 8%.
No capping of fees for full day-care at the rate of last year's fees, with inflation having risen and energy costs massively significant in a childcare setting.
A FEE FREEZE cannot be agreed where the rate of inflation has increased to 7.8% (09/06/2022) from 2.1% in 2021.
Very extensive and expensive administration, regulation and inspections required of ECCE providers, by multiple regulators, are unsustainable.
Insecurity and lack of clarity in the ECCE scheme management; providers need a specific date each year when the contract is given and a signing date within at least 3 months. The current situation is putting a gun to providers heads, in very troubling economic and market conditions.
Recent research among preschool providers indicates 260 will close their doors next autumn, and parents already struggle to get places.
With zero unemployment and a staffing crisis in many sectors, reliable childcare is crucial for economic growth.
Elaine Dunne, chair of the Federation of Early Childhood Providers, spoke with Ciara Noble on Tuesday's Kildare Focus: