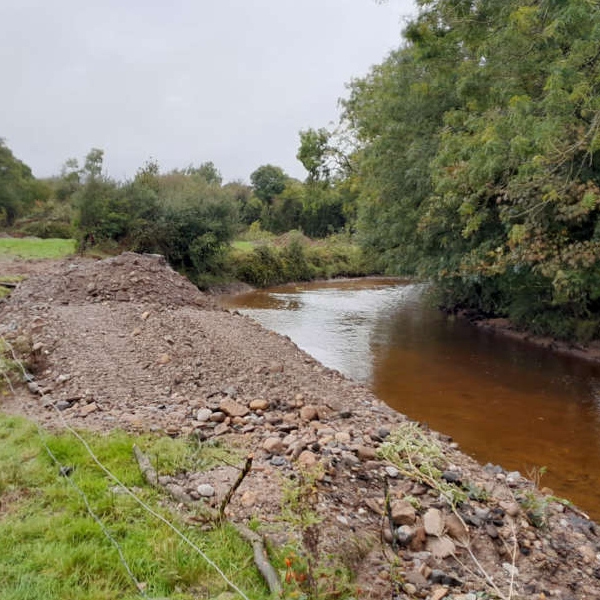 The defendant was prosecuted for gravel removal works
A farmer in Laois has been found guilty of two breaches of fisheries legislation for deliberate destruction caused at a local river.
The defendant was prosecuted for damaging spawning beds and disturbing spawn or fry during destructive gravel removal works carried out on an 80 metre stretch of the Delour River, a tributary of the River Nore, near Mountrath, Co Laois.
The defendant pleaded guilty to the offences at Portlaoise District Court on April 21st 2023, and was fined €4,000 and ordered to pay a further €1,500 for the costs of the prosecution.
Commenting on the conviction Lynda Connor, South-Eastern River Basin District Director at Inland Fisheries Ireland (IFI) said: "This is a serious crime against the environment.
"The destruction of the river habitat, and the spawning beds for the likes of trout and salmon, threatens the species survival in this area, and beyond into the greater Nore catchment.
"Landowners need to seek all necessary and relevant information from their advisors, and from IFI, before carrying out any works near or on a watercourse adjacent to their land," she added.
Evidence was given by Fisheries Environmental Officer Oliver McGrath, and the incident took place on September 30th 2022.
The offences were secured under Section 173 of the Fisheries (Consolidation) Act 1959, as amended, for injury or disturbance of the spawn or fry of Salmon, Trout or Eels and for the injury or disturbance of their spawning bed, bank or shallow where their spawn or fry may be.
IFI encourages members of the public, anglers and farmers to report incidents such as this, and those of water pollution, fish kills, and illegal fishing to its confidential 24/7 phone number, 0818 34 74 24.