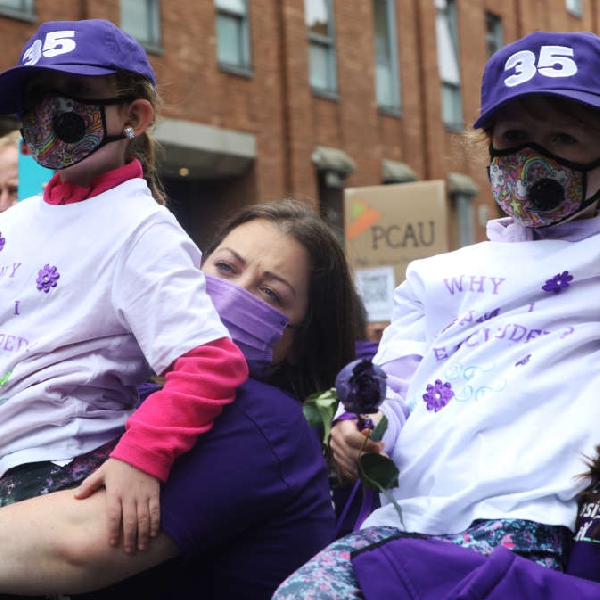 File image: Fiadh & Caoimhe Ní Lúing with their aunt Catherine Demey via Rolling News
Gráinne Uí Lúing joined parents & children outside Leinster House
The health of 35 children - aged between 6 and 11 - is being seriously compromised, after they were refused a life changing Cystic Fibrosis drug.
Currently the drug, Kaftrio is being provided to 140 children in Ireland.
However, a pricing disagreement has arisen between the HSE and drug manufacturer, Vertex Pharmaceuticals, over 35 children with a particular genotype, who have yet to gain access to it.
Parents and children protested outside Leinster House today, demanding the HSE and Vertex reach an agreement.
Gráinne Ní Lúing, a Maynooth mother of two daughters living with Cystic Fibrosis, 8 year-old Caoimhe & 6 year-old Fiadh attended the protest outside Leinster House.
On Wednesday afternoon's 'Kildare Focus' Gráinne spoke with Ciara Noble on her children's situation.
She said "CF is a deteriorating illness you don't get better, you get worse with CF & the drug Kaftrio takes you from your baseline it starts you from there, it doesn't get you better. So everyday we wait my girls are deteriorating, they're not getting better.
So who's going to be responsible if the 35 becomes 34?"
Ní Lúing noted that there seems to be a stand-off between the HSE & Vertex, as the contract signed between them did not include children with certain genotypes, including Caoimhe & Fiadh.
She understands the HSE are supposedly saying they will not pay more, with Vertex noting they have to, to get access.
Heartbreakingly, Gráinne notes she can see the drug behind the counter at her local pharmacy - calling it torture.
Listen to Gráinne's full interview on Wednesday's 'Kildare Focus':
#WATCH The families of more than 30 children living with Cystic Fibrosis are calling on the #HSE to allow their children access to a new so-called "wonder drug" #Kaftrio@RCarrollTV reports ⤵️#VMNews | @cf_ireland | @HSELive pic.twitter.com/mPGiBFjxnm

— Virgin Media News (@VirginMediaNews) May 20, 2022