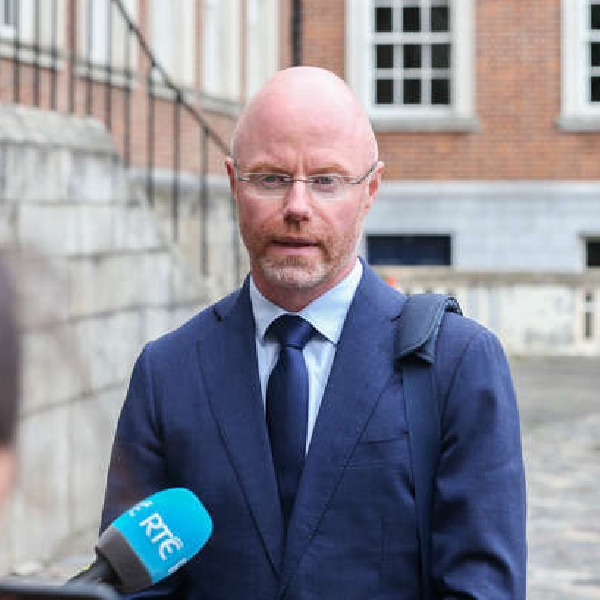 File image: Rolling News
Phase Two of the Menopause Awareness campaign will run from 11 March 2023 until 14 April 2023.
Ministers are encouraging people to 'talk about Menopause'
Minister for Health, Stephen Donnelly; Minister for Public Health, Wellbeing and the National Drugs Strategy, Hildegarde Naughton and the Minister for Mental Health and Older People, Mary Butler have launched Phase Two of the Department of Health's National Menopause Awareness Campaign.
The campaign aims to inform, educate and "lift the taboo" around menopause.
The first phase of the campaign launched on World Menopause Day last October.
Phase Two of the Menopause Awareness campaign will run from 11 March 2023 until 14 April 2023.
Post-campaign research found that three-quarters of people who saw it said it increased their awareness of menopause, while two-thirds said it increased their understanding of menopause as well as their levels of comfort in talking about it.
The Department of Health is continuing to encourage open conversation and increased awareness of menopause with Phase Two of the campaign which includes a television advertisement alongside national and local radio, newspapers and magazines, out-of-home advertising on digital displays and bus shelters, and targeted social media posts.
It is complemented by gov.ie/menopause, a one-stop shop for information about menopause and menopause symptoms, advice on proactive management and links to appropriate clinical expertise.
There has been significant investment in menopause services, with five of six specialist menopause clinics – one in each maternity network - currently operational and the sixth clinic anticipated to open shortly.
These clinics provide treatment for women with complex symptoms that cannot be managed at primary care level.
For the majority of women menopause care can be managed in the community. In October 2022, supported by the Women's Health Fund, the ICGP published a Quick Reference Guide on the Diagnosis and Management of Menopause in General Practice, supporting GPs in treating people experiencing menopause.
Budget 2023 saw the removal of VAT from Hormone Replacement Therapy (HRT) to improve equality of access.
Minister for Health, Stephen Donnelly commented: "One of my main priorities as Health Minister has been to improve access to healthcare for women in Ireland and to ensure their needs for services across all life stages are met.
"In the last year we've delivered significant improvement and expansion in services, including specialist menopause clinics.
"However, it's important that as well as providing services, we also empower women in their experience of perimenopause and menopause, and this campaign is a vital part of that.
"Women told us previously that the lack of communication on the issue of menopause created a taboo and stigma and an atmosphere in which women felt a sense of loneliness and isolation.
"Approximately 50% of our population will experience menopause, and all of us need to know more about its symptoms and treatments. So let's all talk more about it."
Minister for Public Health, Wellbeing and the National Drugs, Strategy Hildegarde Naughton said: "I'm delighted to see the conversation opening up, a sign that we're slowly beginning to erase the stigma that has traditionally been associated with menopause.
"This week I've had the opportunity to see for myself the wonderful work being done in the Specialist Menopause Clinic at University Hospital Galway.
"Having just opened in December, the volume of activity in the clinic is further confirmation of the need for these expert services, which can have a transformative effect on women's lives.
"By being prepared and armed with the tools to help proactively manage symptoms, we can make this phase of life a much more positive experience for everyone," she added.
Minister for Mental Health and Older People, Mary Butler said: "While menopause affects half our population directly, all of us know someone going through it, be it a family member, a friend or a colleague.
"This campaign and the excellent resources available on gov.ie/menopause will help empower everyone to open up the conversation around menopause and eradicate any stigma associated with it.
"We know that menopause can impact on a person's mood due to hormonal imbalances, and it can also affect mental health.
"That's why it's so important to be aware of the symptoms, to recognise the cause of changes in body and behaviour and to be empowered to seek assistance by reaching out to a GP."
Chief Nursing Officer, Department of Health Women's Health Champion and Co-Chair of the Women's Health Taskforce Rachel Kenna, said:
"We all need to be more informed about menopause, not just to help ourselves but also to support those around us who may be going through it.
"I'd advise anyone who wants to find out more to use the excellent resources on gov.ie/menopause. Talk to your GP about treatments that may be suitable for you.
"I also can't overstate the importance of reaching out to friends and building a network of people who understand what you're going through. Sharing experiences can be very empowering," she added.