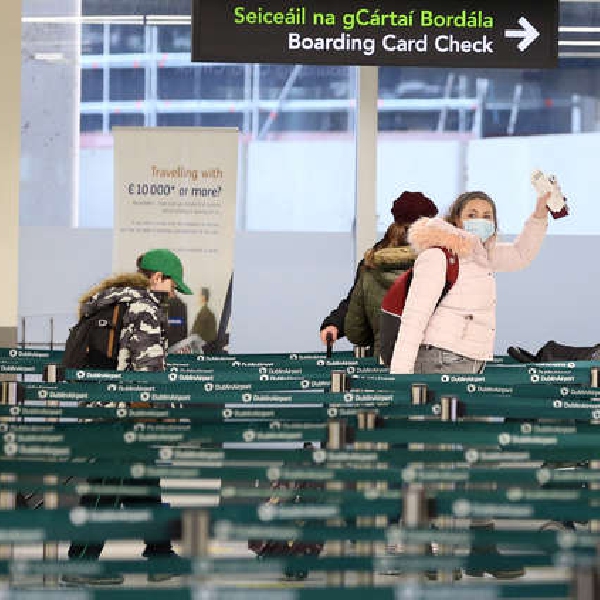 File image: Rolling News
The Red C poll also found that 80% are fearful for their future.
More than 70% of young people in Ireland aged 18-24 are considering moving abroad for a better quality of life, a new survey has found.
A youth organisation has warned that "unless young voices are heard in this budget, many will choose to leave".
The research was carried out by RedC on behalf of the National Youth Council of Ireland (NYCI) which expressed concern about the "severe impact the cost of living crisis is having on young people in Ireland".
The NYCI, which represents 55 voluntary youth organisations, called on the Government to support young people in the upcoming budget to dissuade emigration.
The survey also found that 80% are fearful for their future, 50% reported worse mental health in the context of the rising cost of living, and 40% were not as happy as they were six months ago.
While, 50% are struggling to make ends meet, and around a quarter said their experience with housing in the last six months is worse.
In its pre-budget submission, the NYCI called for a reduction in further and higher education fees, an increase in the minimum wage for under-20s to the same as over-20s.
It's, also calling for an increase in the rate of jobseekers' allowance for young people in line with over-25s, and an increased investment in youth work services.
Kildare- Newbridge Social Democrats Cllr. Chris Pender commented:"These findings are particularly concerning given that young people sacrificed so much during the pandemic, from disrupting their education to missing out on important milestones and lack of socialisation.
"The survey results reveal the harsh reality of young people's experiences of living in Ireland.
"We risk becoming a nation of emigrants again due to failed Government policy in several areas impacting our youth, including housing, education, low pay, and transport.
"The reality of owning - or even renting - a home is nothing more than a pipe dream for many young people today. My generation is the first in recent history where our quality of life will be worse than our parent's.
"Even once dependable jobs, such as teaching or working in healthcare, do not pay enough to meet rent and living expenses in Dublin and other cities.
"As a result, schools are crying out for new teachers, and the HSE is finding it increasingly challenging to recruit recent graduates.
"Young people clearly believe they will enjoy a better quality of life in places like Canada, Australia and New Zealand, so it's hardly surprising seven out of ten would consider relocating abroad.
"The situation is even starker in rural areas, where young people move away for college at 18 and may never return.
"We need to see additional schemes and incentives to retain young people across a range of key professions, which will require further investment in third-level education, apprenticeships and affordable housing," he added.