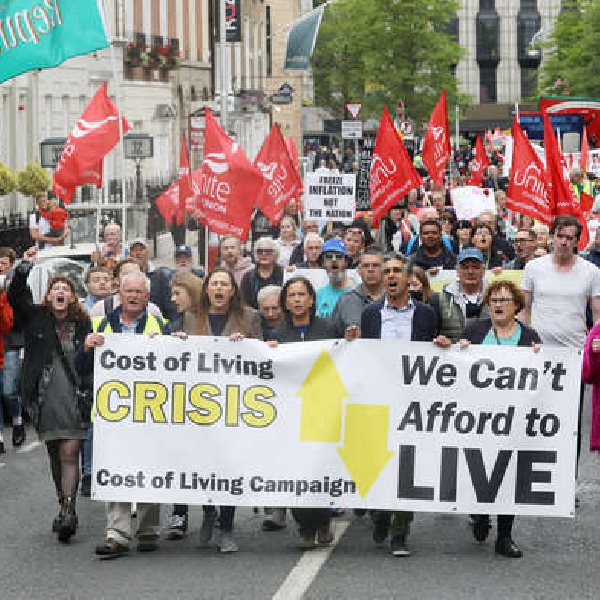 File image: Rolling News
Protests took place over the weekend in Dublin, Cork, Limerick, Galway And Sligo.
A Socialist Party TD has warned that the continuing resistance by government to address the rising cost of living, will only lead to more protests across the country.
Government officials are meeting with relevant stakeholders this morning to discuss Budget 2023.

The discussions come amid pressure from opposition to bring in emergency measures next month, to help reduce spiralling costs.

The Taoiseach has ruled out suggestions of a Christmas Bonus style welfare payment next month and an extension to the fuel allowance.
However, a key organiser of Saturday's Cork cost of living demonstration has said that protests will grow if the Government continues to resist demands for action.
Socialist Party TD Mick Barry's comments come in the wake of Saturday's protest which was attended by more than 1000 people.
It also come in the wake of an Ireland Thinks opinion poll published this morning which shows 88% supporting a windfall tax on profits being made by energy companies.
Deputy Barry said that the Cork protest was larger than the first protest in the city against the household tax more than 10 years ago.
The household tax protests led onto protests against the water charges which rocked the Fine Gael/Labour Government of the day.
Deputy Barry commented: "Micheal Martin seems to be closing the door this morning on the demands voiced by the people who took to the streets at the weekend in Cork, Dublin, Galway, Limerick and Sligo.
"If he tries to stick to stick to that line, I think protests are only going to go one way - they're going to grow," he insisted.
"This crisis isn't going away and the demand for change isn't going to go away either.
"I can guarantee the Taoiseach that that is the case," he added.