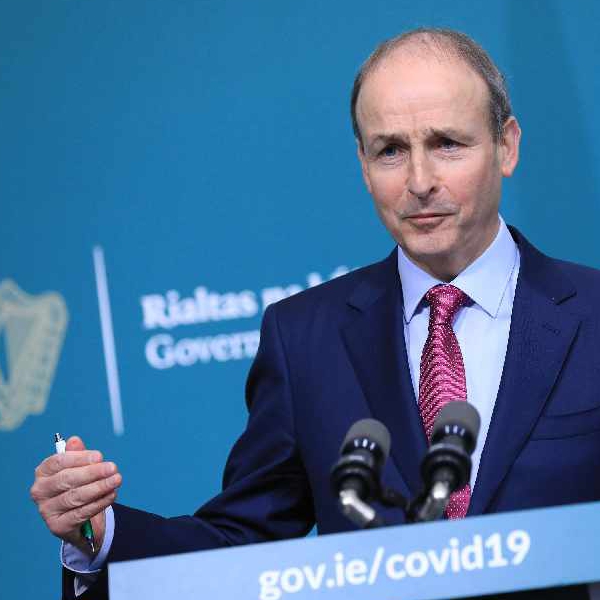 File image: Taoiseach Micheál Martin/RollingNews
Pensions and most social welfare rates will rise by €5 a week - with a full Christmas bonus to be paid.
The Taoiseach says today's Budget is framed around Ireland emerging from the Covid Pandemic.

Some of the measures expected later are a hundred million euro package to help the tourism sector, eight hundred new Gardaí and half price public transport for young people.

Free contraception for young women and an extension to the Help-to-buy scheme will also form part of the 4.7 billion euro spending plan.

Speaking on his way into Cabinet, Taoiseach Micheal Martin said the Budget is about the country recovering post Covid:
Budget 2022: 'I hope they tackle cost of electricity, rates and insurance,' says publican https://t.co/85Q3fxVNrT

— Independent.ie (@Independent_ie) October 12, 2021
The Help to Buy Scheme is being extended by a year, while the Employment Wage Subsidy Scheme is being extended until the first Q of 2022.

The Department of Health budget is set to see a decrease in Covid funding, while new spending will see a scheme to provide free contraception to young women
Health Minister Stephen Donnelly told reporters he believes the Health Budget will help the country move towards universal healthcare.
Among the last measures agreed yesterday was a 5 euro a week rise in the fuel allowance, effective from midnight tonight.
That's in a bid to offset fuel costs - which will also rise at midnight due to a 7.50 a tonne increase in carbon tax.
The point at which people pay the higher rate of income tax will rise by €1,500 - worth about €8 a week.
Speaking on his way into Cabinet, Tanaiste Leo Varadkar says the country's finances are in a much better position than previously forecast.
While the Children's Minister Roderic O'Gorman says it will be a good day for parents and children.
• Welfare payments up €5 including fuel allowance from tonight
•Thousands more carers to get allowance & xmas bonus agreed
• Young adults to get 50 pc reduction on public transport
•800 extra gardai and new community fund. Pupil teacher ratio to drophttps://t.co/nkWMSbdJVM

— Jennifer Bray (@Jennifer_Bray) October 12, 2021
Minister Eamon Ryan has secured a 25 million euro fund to give half price public transport to students and anyone aged between 19 and 23.
President of NUI Galway students union, Roisin Nic Lochlainn, says the plan to give half price public transport to young people doesn't go far enough:
Pensions and most social welfare rates will rise by 5 euro a week - with a full Christmas bonus to be paid.

A 100m euro package from Minister Catherine Martin for the tourism sector will include a pilot universal basic income scheme for artists.

A loan guarantee scheme for financial institutions who lend to fund home retrofits forms part of a 350m euro climate package.

The Department of Justice has secured funding for 800 new gardai and 400 garda civilian staff in 2022.
Economist Jim Power's expecting few surprises today
: