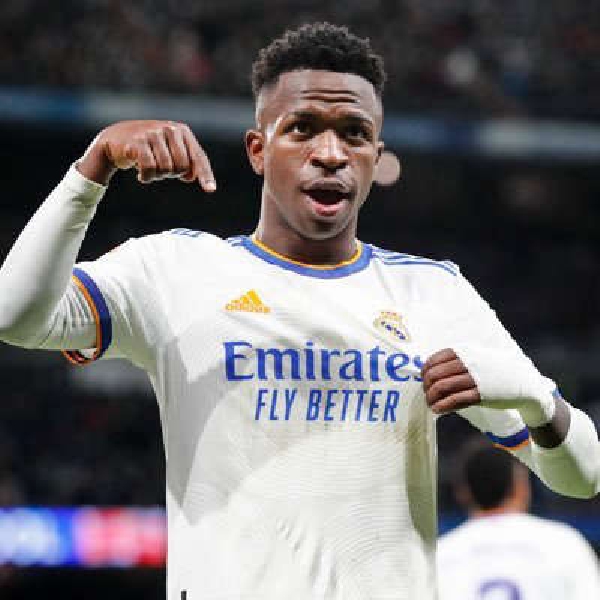 File image: @vinijr
Vinicius threatened to leave the pitch in the second half of Sunday's La Liga match at the Mestalla
Valencia will appeal against their five-game partial stadium closure and hefty fine following the racist abuse aimed at Real Madrid forward Vinicius Junior, calling the sanction "unfair and disproportionate."
Vinicius threatened to leave the pitch in the second half of Sunday's La Liga match at the Mestalla after being subjected to alleged monkey chants from the crowd and Real Madrid, who said the incident constituted a "hate crime", filed a complaint with the Spanish State Attorney General's Office.
In response, the club have been ordered to shut the Mario Kempes south stand, where the alleged abuse happened, for five matches and have also been fined €45,000 by the Spanish football federation [RFEF].
Valencia said in a strongly worded statement: "Valencia CF wishes to show its total disagreement and indignation at the unfair and disproportionate penalty imposed by the competition committee on the club with the closure of the stand for five games.
"Valencia CF wants to publicly denounce that in this resolution of the RFEF competition committee they show evidence that contradicts what the national police and La Liga say.
"In addition, this sanction is based on evidence that the club has not been able to see and without giving us a hearing.
"Valencia CF has condemned, condemns and will condemn in the most energetic way any act of racism or violence. These behaviours have no place in football or in society and we will continue to act in the most forceful way to eradicate this scourge.
"For this reason, Valencia CF is collaborating from the first minute with the police and all relevant authorities to clarify the events that occurred last Sunday.
"In addition, it has applied the maximum possible sanction with the expulsion for life from our stadium to the fans that the police have identified for their racist behaviour.
"For this reason we consider that penalising and depriving all the fans who were not involved in these unfortunate incidents from seeing their team is a totally disproportionate, unfair and unprecedented measure against which we will fight.
"The fight against racism requires the real commitment of all the parties involved without using it as a pretext to incur serious injustices.
"Valencia CF will appeal to the last instance the closure of the stand, a sanction that it considers totally unfair and one more offence in the latest disciplinary decisions that have been taken against the club. Valencia CF asks for the utmost respect and rigour for our institution and fans."