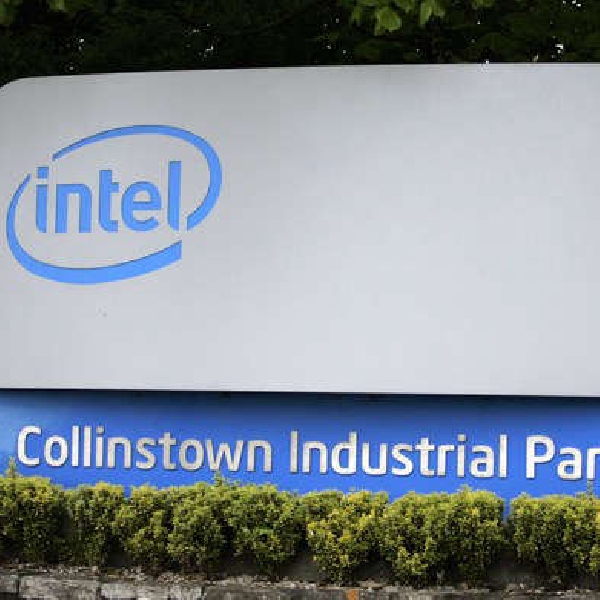 File image: Intel, Leixlip/RollingNews
There is a global shortage of chips in vehicle manufacture.
Intel,Leixlip, is to allocate capacity at its plant for the production of automotive chips.
There is a worldwide shortage of chips in vehicle manufacture.
Intel's Global CEO Pat Gelsinger, has already announced plans to establish committed capacity for foundry customers at ourfactories in Ireland.
Now, Intel Ireland's General Manager, Eamonn Sinnott, says, in addition to Intel's €5.5 billion expansion in Ireland, primarily in Leixlipm it plansto build at least two new leading-edge computer chip factories in Europe with future investments that could reach €80 billion over the next decade.
Intel to open up Irish plant to allow car makers create microchips for next generation of vehicles https://t.co/sYhjAi85iP

— Independent.ie (@Independent_ie) September 8, 2021
This will create thousands of additional construction and technical jobs.
Europe's global share of semiconductor manufacturing has dropped from 44% to 9%, as semiconductor demand continues to grow.
Eamonn Sinnott says "Intel Foundry Services is putting differentiated capabilities on the table that go beyond what a traditional semiconductor foundry can offer. Automotive chip designers will be able to take advantage of Intel's experience in manufacturing high-performance chips for automotive systems. Our unique IP can help customers conceptualize and build innovative products for automotive applications, and our advanced packaging and process technology includes the ability to manufacture automotive-grade chips in our Ireland fab.
We have worked closely with automotive customers to make sure we have the capabilities in place to meet the stringent quality requirements of the automotive industry. Our Ireland manufacturing facilities are in conformance with IATF 16949, an internationally recognized quality management standard that was developed by automotive OEMs to address specific concerns throughout their supply chain. This means that the site has demonstrated that all relevant IATF 16949 requirements related to process control or collateral quality systems are fulfilled."
Building additional advanced semiconductor factories in the EU and expanding the region's capacity will make European supply chains more resilient and contribute to the EU's goal of more than doubling its share of global chip manufacturing, from 9% to 20% by 2030. "
Intel to convert some of plant's output to producing other companies' designs https://t.co/0W94UMvoE9 via @IrishTimesBiz

— Irish Times Business (@IrishTimesBiz) September 8, 2021