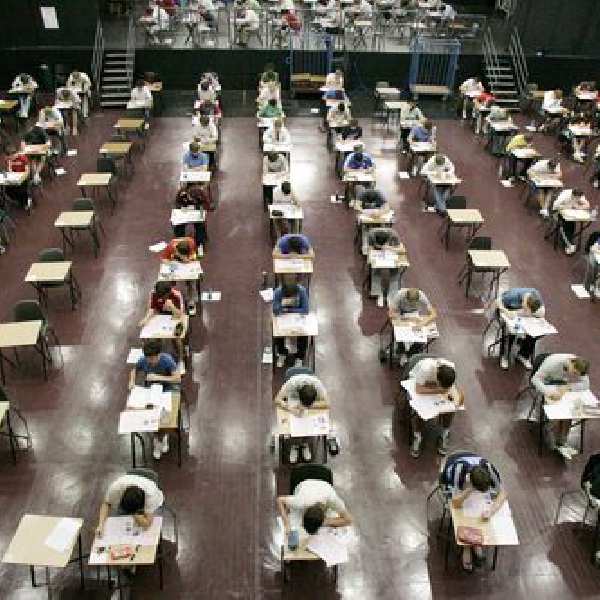 File image: Rolling News
More than 63,000 candidates have registered for the Leaving Certificate exams
Turn2Me, a mental health organisation, has urged parents to be "supportive and quietly kind" during the Leaving Certificate period.
They are offering support groups for students and parents alike during this stressful time.
Record numbers will sit this year's Leaving Certificate and Junior Cycle exams which got under way this morning.
More than 63,000 candidates have registered for the Leaving Certificate exams, while more than 71,000 are expected to sit Junior Cycle papers.
The rise represents a 3% increase from last year and reflects demographic growth.
Fiona O'Malley, CEO of Turn2Me, said that many parents may feel lost when approaching their teenagers during exam periods.
She explained: "They're not sure what to say or how to get the balance between being supportive and not putting too much pressure on their teenagers.
"You don't need to give a long Ted Talk every time you see your teenager but giving them words of encouragement can be really powerful," she said.
The exams are taking place in more than 800 post-primary schools and other venues across the country.
The most significant increase has occurred in numbers registering for the Leaving Certificate Applied (LCA) programme.
There has been a 20% rise in candidates intending to sit LCA exams compared to last year, from 3,173 candidates to 3,812.
Compared to the traditional Leaving Certificate, the LCA is more orientated toward developing practical skills and it has a stronger continuous assessment component.
Fiona O' Malley, CEO, Turn2me joined Eoin Beatty on Wednesday morning's Kildare Today;