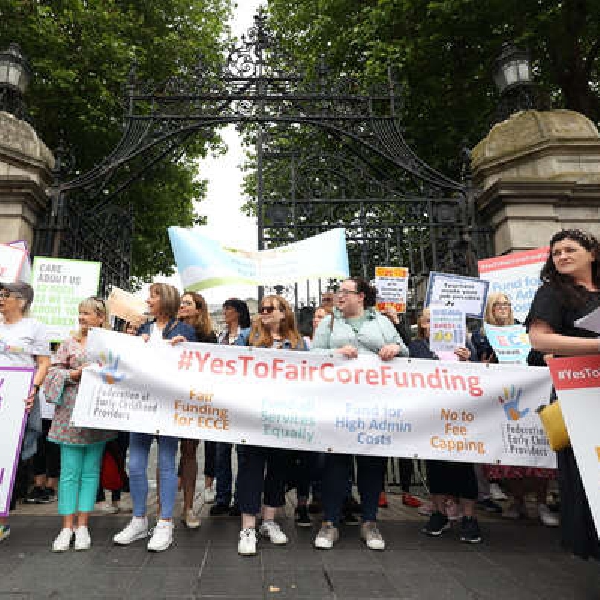 File image: Rolling News
Childcare providers are calling for a subsidy of €100 per child on the ECCE scheme.
Childcare providers say they'll be forced to close, if they agree to a new funding model this autumn.
Over 200 childcare providers gathered outside Leinster House this morning, protesting about a planned funding scheme, which will kick in this September.

Full time creches and minders are being asked to freeze their fees at their 2021 rates, in order to access core funding from Government.
Providers who offer full-time services say they can't agree with freezing their fees, if the rate of inflation continues to rise.
Childcare providers are calling for a subsidy of €100 per child on the ECCE scheme, to cover actual costs currently subsidised by the childcare owner, currently they receive €69.
Social Democrats Children Spokesperson Jennifer Whitmore has said the continued indecision, combined with soaring costs, is threatening the viability of hundreds of ECCE providers
"The government must provide clarity to the Early Childhood Care and Education (ECCE) sector about the level of core funding they will receive in the autumn, " she said.

"As ECCE-only providers operate in tandem with the school year, they must have certainty in advance of the new school term in September. Remarkably, no details about how this core funding model will work have been issued by the Minister.

"This uncertainty extends to pay rates within the sector as operators do not know what level of pay they can offer their employees.
"A draft Employment Order for the sector has been issued but it is not yet finalised nor signed into law. An Employment Order must be signed into law before contracts can be issued to providers.
"All of this will take time and clarity is urgently needed now, before the summer recess," she added.

Aontú leader Peadar Tóibín TD has facilitated a presentation by the Federation Early Childhood Providers to Oireachtas members in the Leinster House AV room today.
Deputy Tóibín commented:"Childcare costs are crucifying parents across the country with some parents paying €1,276 a month for full time care.
"The reason it is so expensive is that government funding is so low. Our Government invests the equivalent of 0.2% of our GDP into early childhood education and care.
"The UNICEF benchmark is 1%. Countries with similar populations such as Norway invest 1.8% of the GDP".
"In this Cost of Living crisis families need help and support to cover the cost of child care. But the government Core Funding Plan is proving to be a serious threat to providers. There are 4 stakeholders in this sector. Parents, children, providers and staff.
"Without providers and staff there is no sector. The government's plan puts a ceiling on the income that is earned by providers without providing the necessary funding to make their businesses sustainable. This will make many unsustainable.
"As we enter the summer holidays many of these businesses are on the brink of closure. We urge the government to enter negotiations now to ensure there is a child care sector to return to in September," he added.