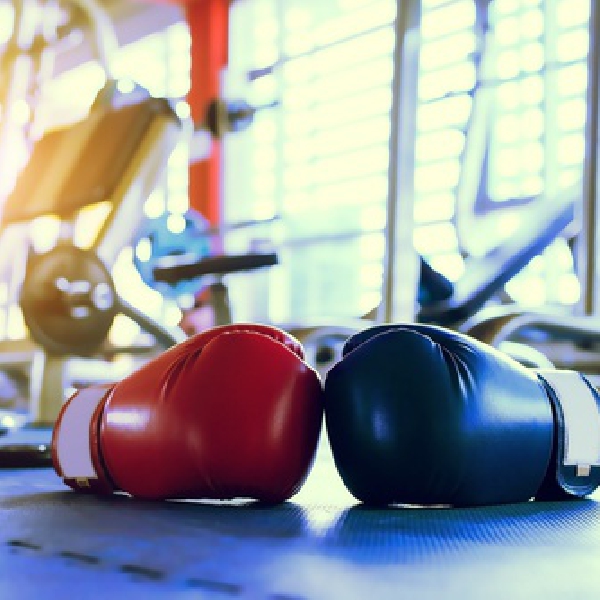 Stock Image: Pixabay
St. Michael's Athy Brandon McCarthy claimed the 63.5kg title.
24 Elite boxing champions were crowned at the National Stadium last night, include St. Michael's, Athy boxer, Brandon McCarthy.
He won a unanimous decision against Jack McGivern of St.Georges, Antrim, at 63.5kg.
Brandon McCarthy boxed very well there. Up against a tough kid in McGivern from Belfast. A great win for St. Michael's Boxing Club Athy and another one to come with @tommyhyde99 🙏

— Eric Lilywhite Lightning Donovan (@ericdonovanbox) October 2, 2021
Enniskerry BC's Daina Moorehouse got the 5-0 win over Niamh Early of Ryston in a very tough contest.
This is the first time the Elite competition has been staged since November, 2019.
Among the more remarkable results was an Elite title for Olympian, 36 year old Darren O'Neill.
He hasn't boxed, competitively, in four years, and claimed his 8th Elite title when he decided to enter after just one training session.
Absolute history made in the national stadium tonight, the oldest senior champion ever and the senior champion record holder under the one roof for one night only…🙏 #modesty #vain pic.twitter.com/OlPl8zHlZz

— Kenneth Egan OLY (@kenegan30) October 2, 2021
No spectators were present to see the contest, but they were streamed and broadcast by TG4.
The Irish Athletic Boxing Association has confirmed that St.Brigids, Edenderry fighter, Sara Hagightat-Jo won the Best Female Boxer Award and Adam Hession, of Monivea, Galway, won the Best Male Boxer Award.
Full list of Elite champions:
48KG Ricky Nesbitt W/O
54KG Jake Rapple W/O
60KG Amy Broadhurst W/O
75KG Aoife O'Rourke W/O
75KG Gabriel Dossen (Olympic, Galway) beat Sean Donaghy (St.Canices, Derry) 5-0
63KG Eve Woods (Corinthians, Dublin) beat Gillian Duffy (St.Marys, Dublin) 5-0
66KG Kaci Rock (Enniskerry, Wicklow) beat Kiesha Attwell (Tobair Pheadair, Galway) RSC3
81KG Bethany Doocey(Castlebar, Mayo) beat Nel Fox (Rathkeale, Limerick) 5-0
86KG Darren O'Neill (Paulstown, Kilkenny beat Faolain Rahill (DCU, Dublin) 5-0
92KG Jack Marley (Monkstown, Dublin) beat Marcin Skalski (Athlone, Westmeath) 5-0
92+KG Martin Keenan (Rathkeale, Limerick) beat Thomas Maughan (Cavan B.C) 3-2
48KG Shannon Sweeney (St. Annes Westport) beat Carol Coughlin (Monkstown, Dublin) 5-0
51KG Paddy McShane (Letterkenny, Dgl) beat Paudraic Downey (St.John Bosco, Antrim) 3-2
50KG Caitlin Fryers (Immaculata, Antrim) beat Nicole Clyde (Antrim B.C) 5-0
52KG Daina Moorehouse(Enniskerry, Wklw) beat Niamh Early (Ryston, Kildare) 5-0
57KG Adam Hession (Monivea, Galway) beat Sean Purcell (Saviours Crystal, Wtrfrd) 5-0
54KG Sara Hagightat-Jo (St.Brigids, Edenderry, Offaly) beat Niamh Fay (Ballyboughal, Dublin) 3-2
60KG John Paul Hale (Star, Antrim) ​​beat Dominic Bradley (Emerald, Antrim) 5-0
57KG Jennifer Lehane (DCU, Dublin) ​beat Kellie McLoughlin(Drimnagh, Dublin) 5-0
63.5KG Brandon McCarthy (Athy, Kildare) ​beat Jack McGivern (St.Georges, Antrim) 5-0
67KG Eugene McKeever (Holy Family, Lth) beat Wayne Kelly (Ballynacargy, Westmeath) 4-1
Great night for Louth boxing at the Irish Elite Championships as Evelyn Igharo [Clann Naofa] joins Ricky Nesbitt & Eugene McKeever [Holy Family] in the winners' circle 👑 pic.twitter.com/D4w96fDP9P

— Ronan Mullen (@RonanReigns) October 2, 2021
70KG Evelyn Igharo (Clann Naofa, Louth) beat Lisa O'Rourke (Castlerea, Roscommon) 5-0
71KG Kieran Molloy (Oughterard, Galway)​ beat Luke Maguire (Esker, Dublin) 5-0
80KG Kelyn Cassidy (Savrs Crystl, Wtfrd) beat Tommy Hyde (St.Michaels Athy, Kildare) RSC1