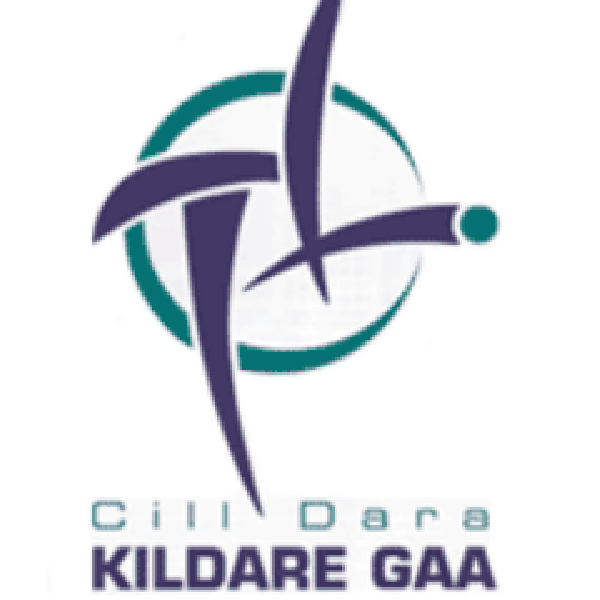 Image: Kildare GAA logo.
Kfm requested statements of the three front-runners, which were broadcast on Thursday's edition of Kildare Today.
Speculation continues on the appointment of a new Kildare men's senior football manager.
Debate centres around should it be an internal or external appointment.
There is general agreement that the three front runners internally are:
Davy Burke, who managed Wicklow seniors last season and who stepped down shortly before Jack O'Connor's resignation was confirmed; he also managed the Kildare All Ireland winning Under 20 team of two seasons ago and the Sarsfields club to the county senior football title
Tom Cribbin: outgoing management team member, who has previously managed Laois, Offaly and Westmeath at senior intercounty level, along with the Kildare minors and U21's previously.
Glenn Ryan: Former All Star Centre back, former manager of Longford seniors and current manager of Round Towers, who are into this year's county quarter final
Kfm understands that final interviews for the position are scheduled for Thursday and Friday of next week.
Kfm also understands that not all three are formally applying for the position, but that all are interested in taking the job.
The County Board has previously issued a statement, when announcing the appointment of a consultant to chair the selection committee of three Co. Board executive officers, that they were open to approaching anyone they felt might be a suitable candidate.
Kfm also understands that an official approach was made to Tom Cribbin, Glenn Ryan and Davy Burke whether Glenn and Davy would serve with Tom Cribbin as manager.
Kfm understands that all three declined that option on the basis that it would be unworkable, and also that all were only interested in being manager and bringing in their own team.
Kfm requested statements of all three, and Clem Ryan and Eoin Beatty discussed the recruitment campaign, and the statements, on Thursday's edition of Kildare Today.
Statement by Tom Cribben
"I've been involved in football most of my life as a player and manager.
I have won 5 senior championships as a player, managed teams to 4 senior club championship titles, success at minor and U21 teams with Kildare inclusive of a Minor Leinster League & U21 Leinster title.
I then gained invaluable management experience at inter county level in Laois, Offaly and Westmeath, winning promotion to division 1 and 3 with Laois and Westmeath respectively, and competing in 2 Leinster finals with Westmeath only to be beaten by Dublin in the Leinster championship in that 3 year term. I believe the above experience, combined with spending the last 3 years as a selector with the Kildare senior team gives me the required knowledge and skills to develop Kildare football into the future.
If appointed. I will bring that knowledge, along with other's expertise, to the position.
I look forward to meeting the county Board selection committee, where and when I will outline my strategy for the future.
I would like to thank KFM for the invitation, but on reflection I feel it would be fairer to wait until the interview process has taken place".
Statement by Davy Burke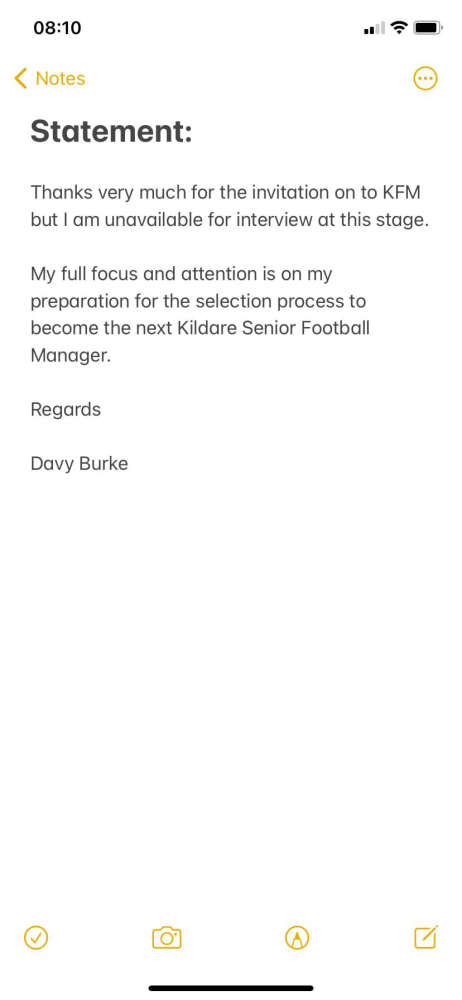 Statement by Glenn Ryan:
"No comment"
However, Kfm understand from reliable sources that Glenn Ryan is interested in the position, if he is approached.