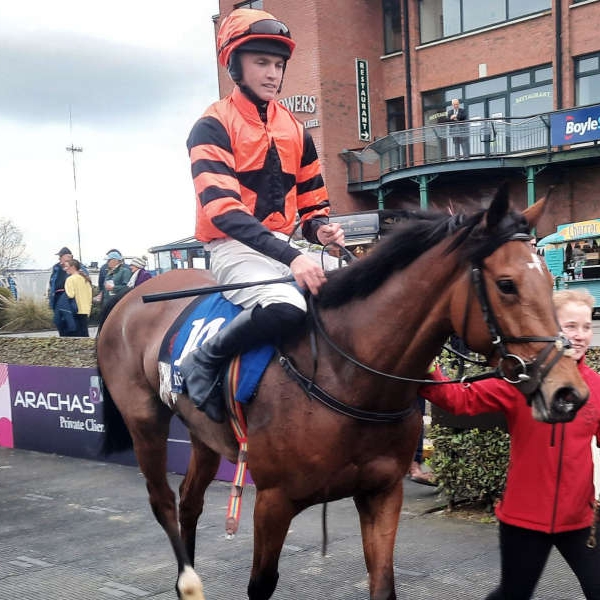 File image: @IrishRacing365/ Twitter
35% of Irish Jockeys met the threshold for depression
The Kildare based jockey, Michael O'Sullivan has encouraged people to reach out on the first ever Equestrian Mental Health Week.
Mr. O' Sullivan is first jockey for Trainer Barry Connell, who is based in Nurney.
The mental health campaign for equestrians has been launched with the goal of raising awareness and reducing the stigma around mental health within the equestrian community.
Recent surveys show that 35% of Irish Jockeys met the threshold for depression, as well as 41% of racehorse trainers.
The campaign, entitled #HAYHowAreYa is being run by The Grassroots Gazette and is supported by Ireland's biggest representative bodies and associations for equestrians.
Its aim is to address the unique mental health challenges faced by equestrians and to give them the support they need to take care of their mental health, both on and off the horse.
Speaking on Kildare Focus, CEO of the Grassroots Gazette and campaign spokesperson Shane McCarthy commented: "The goal of the campaign is to get people talking, reaching out and asking HAY How Are Ya and taking the time to listen to the answer and see if they are ok.
"It really is important we have open dialogue like this across the equine industry.
"The Community is United, there's so much of the equine industry that are featured in the video. United with a common message.
"If you have a mental health issue, you are not weak. You are just dealing with something and need support," he concluded.
Speaking to Kfm, Michael O' Sullivan commented: "As a jockey you can't really show any weakness."
Listen back to the full interview with Shane McCarthy and Michael O' Sullivan from Wednesday's Kildare Focus with Caoimhe Harney, here:
The HAY "How Are Ya" Campaign 🐎.

Irelands first ever Equestrian Mental Health Week has just launched.

With huge support from the governing bodies and A List Equestrians from across the equine industry. Our community is United.

Let's start a talking by asking #HAYHowAreYa pic.twitter.com/HPr9xdWcbP

— The HAY -How Are Ya Campaign (@hay_campaign) January 17, 2023