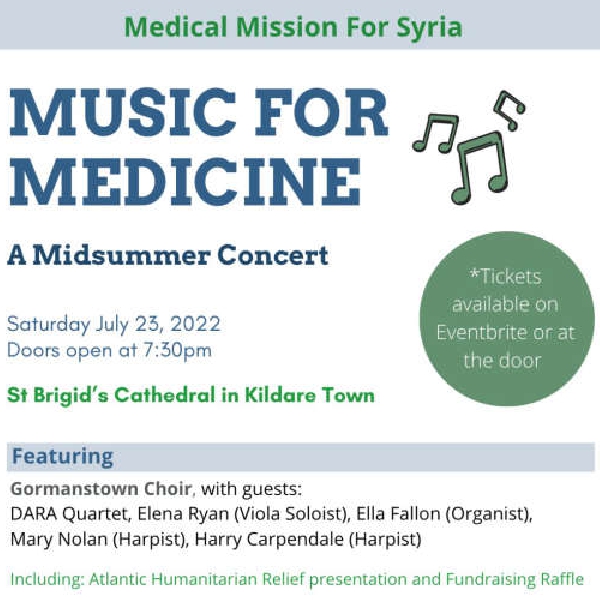 File image: @DrBOSheaGP/Twitter
Concert to raise funds to send Medical Volunteer teams to the region. 6 million Syrians in refugee camps in Jordan and other surrounding countries.
The civil war in Syria commenced in 2011, escalating especially from 2015, when Vladimir Putin and the Russian Military came in on the side of Bashaar al Assad, escalating the firepower, violence and destruction. With over 21 million citizens living reasonably peacefully at the outset, the level of terror, destruction of social capital, and of communities rapidly took off from 2015. At present, there are estimated to be 16 million remaining in Syria, with close to 500,000 killed, 5 million internally displaced, and 6 million refugees, mainly in neighbouring countries.
Jordan, an emerging neighbouring State, with few natural resources, hosts an estimated 1.4 million Syrian refugees. It is a major burden on Jordan, which also hosts refugees from other adjoining countries and conflicts. Most Syrian refugees are housed in both registered and unregistered camps, in the northern part of Jordan, which is our area of interest. Camps provide security and subsistence, and many living in them have been there for over 5 years.
Medical Mission for Syria is fundraising now for Atlantic Humanitarian Relief (AHR).
AHR has been running biannual missions to Northern Jordan since 2012. It is registered in the USA as a non profit charitable (501) c(3) organisation. Originally set up by Syrian Clinicians in the US, it has grown to include volunteers from both the US and Europe. Previously, Dorly O'Sullivan (formerly Principal at Kildare Steiner School and Musical Director at Gormanstown Chapel Choir), Corinna Hopkins (GP Nurse at The Bridge Medical Centre Newbridge), and Dr John O'Shea (Anaesthetics Registrar at Tallaght University Hospital) have been out on earlier missions.
On September 30th 2022, AHR is sending another mission to provide medical and humanitarian aid to the camps in Northern Jordan. The purpose of the mission is to provide essential medical, dental and surgical services, in collaboration with local hospitals, and the University of Irbid Medical School. Our mission in September will include a humanitarian element and educational activities, in addition to surgical, dental, and primary medical care.
Each mission includes a carefully composed team of Physician, Surgical, Nursing, Dental, and Pharmacy Staff, together with humanitarian, administrative and logistical support. These biannual missions (now resuming following pandemic lockdown) include a team of 60-80 volunteers delivering on site clinics, surgery & dental operating theatre lists and humanitarian support, with access to several of both the larger registered camps, as well as un-registered camps. Surgeries and dental treatment are carried out in two local participating hospitals who make Operating Theatres available, and surgeries include wound debridements, hernia repairs, tonsillectomies, hip replacements and dental surgery. Each mission is usually of one week's duration, with the team visiting and working in a series of camps, co ordinating with the neighbouring hospitals.
The team of volunteers came originally from the USA, and increasingly Europe. Volunteers self fund (ie contribute their time, skills, and fund their own travel and accommodation). Additional funding is required for medical supplies, running clinics, administration, and purchasing operating theatre time, at cost, from local hospitals. Each week long Mission costs AHR circa €80,000-110,000 euros to deliver.
Surgeries are costed at €240 each on average.
Further detail on AHR, the work it does, and how else you can become involved is available on its website.
You can contribute with fundraising for September 2022, which includes a strong Kildare element.
It's intended to grow a bigger stream of assistance for as long as this problem exists.
One can contribute directly by supporting the Fundraising Event in July, which is a midsummer evening concert, in St Brigid's Cathedral Kildare, on Saturday, 23rd July, at 7.30pm - beginning at 8.00 pm.
Tickets are available for this now on Eventbrite 'Medical Mission to Syria - Music for Medicine'.
If one cannot attend the Concert, contributions can be made through a separate 'Donate' option on Eventbrite.
The 'Donate' option will run until end of July.
The concert includes a selection of choral and instrumental music from local performers, including Gormanstown Chapel Choir (Musical Director Dorly O'Sullivan), The Dara String Quartet, Organist Ella Fallon (Scholarship at Orgelpark Amsterdam), Elena Ryan on Viola, and Harpists Mary Nolan and Harry Carpendale.
There will be a raffle at intermission, and together with a brief description of the work on the mission, on circumstances on the ground in Jordan and Syria, some observations from previous Volunteers, and on the work of Atlantic Humanitarian Relief.