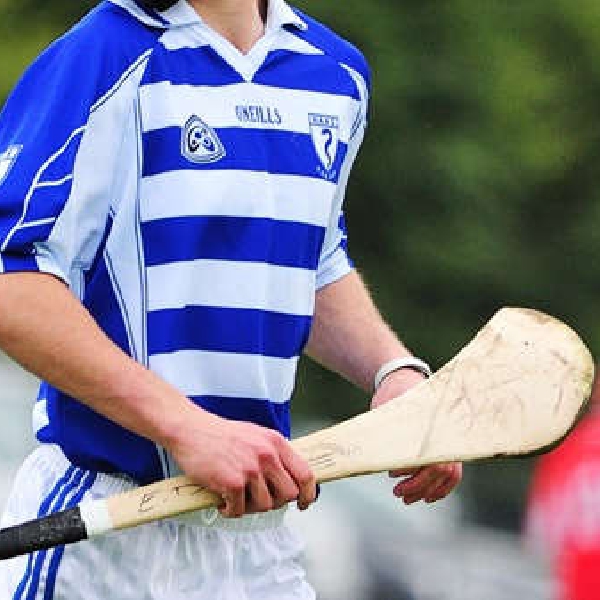 Result Naas 2-17 Camross 1-7. Three outstanding saves by Naas 'keeper Gallagher in injury time.
Report by Kfm's Ger McNally
Naas 2-17 Camross 1-17
Naas goalkeeper Cormac Gallagher produced injury-time heroics as his team held on for victory in this pulsating Leinster Championship quarter-final clash in O'Moore Park today.
Naas led by eight points going into the final quarter but the sending off of Peter O'Donoghue in the 47th minute changed the course of the game and by injury time, Camross, even though they were also reduced to 14 men in the 59th minute, were back to within three points.
Gallagher had already made two fantastic saves by the time that Camross sharpshooter Zane Keenan stood over a 65th minute free from just outside the 20 metre line.
Keenan had already scored a goal from a similar position earlier in the match but when the game was on the line, Gallagher reacted to make a fantastic save and send Naas into a Leinster semi-final for the second successive year.
In a game that had a bit of everything, Camross started the better and with Mark Dowling posing a lot of problems in the full-forward line and Keenan in top form on the frees, and from one magnificent sideline ball, they led by 0-5 to 0-3 after 15 minutes but Naas found their rhythm in the second quarter.
They scored a brilliant goal in the 18th minute when Simon Leacy intercepted a pass out of defence and then played the ball inside to Jack Sheridan. There was still plenty of work for the Naas full forward to do but from outside the 20 metre line he drove a stunning shot into the top-right-hand corner of the net to make it 1-4 to 0-5. Naas then kicked on and by half time were 1-11 to 0-8 ahead.
Camross scored the first three points after the break but that could have been wiped out in the 38th minute when Naas were awarded a penalty after a foul by Darragh Duggan on Sheridan, but Sheridan put his shot inches wide of the post.
Naas recovered from that setback and scored their second goal in the 42nd minute when the two Boran brothers, Cian and Rian, combined to work the ball inside to Brian Byrne and the Naas captain was calmness personified as he stepped inside two defenders before finding the net.
That helped Naas into a 2-13 to 0-11 lead heading into the final quarter but just as all seemed lost for Camross, O'Donoghue's sending off gave them an opportunity to get back into the game, all the more so when Keenan fired a 20-metre free into the net in the 52nd minute.
Camross cut the Naas lead back to three but Kevin Aherne landed a huge score in the 55th minute and then Sheridan found the target from a 65.
There was mayhem in the final minutes as Naas tried to hang on. Camross were reduced to 14 men when Duggan was shown a second yellow card in the last minute of normal time but Tomas Keyes scored from the middle of the field in the first minute of injury-time to leave three in it once again.
Naas needed heroes in the five additional minutes that were still to be played and on a day when they had stars all over the field, nobody stood taller when they needed him most than goalkeeper Gallagher.
It means for the second successive season, Naas are into the Leinster senior hurling and football championship semi-finals and after their footballers play St Lomans next week, the hurlers will go on to face Dublin's Na Fianna in a fortnight.
Scorers - Naas: J Sheridan 1-10 (8fs, 1'65), C Boran 0-4, B Byrne 1-1, S Leacy 0-1, K Aherne 0-1. Camross: Z Kenan 1-13 (1-9fs, 0-1 s/l), T Keyes 0-3, L Delaney 0-1
Naas: Cormac Gallagher; John McKeon, Ross Kelly, Peter O'Donoghue; Harry Carroll, Sean Gainey, Kevin Whelan; Rian Boran, Simon Leacy; Conan Boran, Kevin Aherne, Ferran O'Sullivan; Brian Byrne, Jack Sheridan, Cian Boran. Subs: James Burke for O'Sullivan (40); Cathal Dowling for Aherne (60+2).
Camross: Tadhg Doran; Darragh Duggan, Cathal Cuddy, Joseph Phelan; Eoin Dowling, Eoin Gaughan, Tom Cuddy; Dwane Palmer, Odhrán Phelan; Andrew Collier, Liam Delaney, Zane Keenan; Tomás Keyes, Mark Dowling, Ciarán Collier. Subs: Ciarán Collier for O Phelan (38); Gearóid Burke for D Delaney (41); Lorcan Burke for Gaughan (49); Oisin Bennett for Andrew Collier (56); Eoghan Cuddy for L Delaney (60+3).