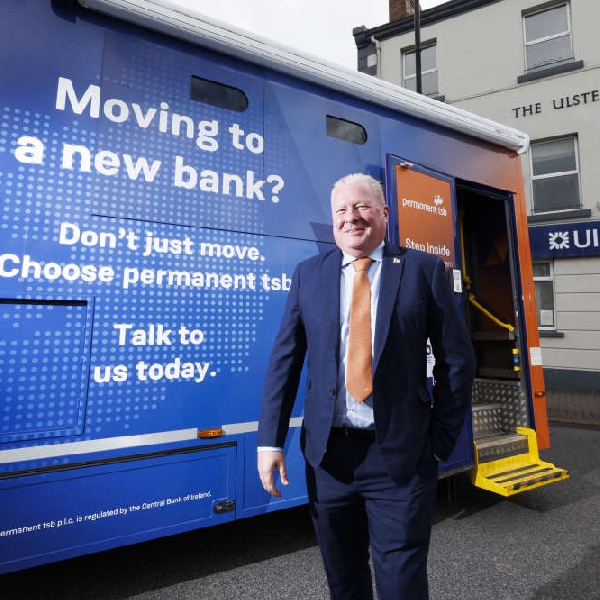 File image: Eddie Kearney, Head of Retail Distribution, Permanent TSB
Early next year.
Two new Permanent TSB branches will open in north Kildare in early 2023.
On Tuesday, the bank announced plans for former Ulster Bank premises in Celbridge & Kilcock which will now be taken over by Permanent TSB.
€2 million will be invested into the county, as part of the business' "major expansion" nationwide, increasing from 75 to 99 branches throughout Ireland.
Currently Permanent TSB has three branches in Co. Kildare, Newbridge, Naas & Maynooth.
The Celbridge & Kilcock premises are expected to open in late January, early February, next year, this follows the bank's acquisition of Ulster Bank branches.
Permanent TSB notes the expansion in Kildare is "part of its wider acquisition of €7.5 billion in mortgages, SME loans and asset finance business from Ulster Bank."
The bank is also encouraging those who have not yet switched to move accounts, before Ulster Bank branches close on the 6th January.
During the month of November Permanent TSB mobile branches will be visiting various areas of Co. Kildare:
Kilcock – Permanent tsb Mobile Branch at The Square - Tuesdays - 10am-4pm
Celbridge – Permanent tsb Mobile Branch at Main Street - Fridays 10am-4pm
Celbridge – Ulster Bank Branch – Friday - 10am-4pm
Naas – Ulster Bank Branch - Tuesday 10am-4pm
It has also been confirmed former Ulster Bank staff - previously employed in the Kildare branches - will be working in the new Permanent TSB premises.
The new Celbridge & Kilcock branches will feature full cash services.
On the news Head of Retail Distribution at Permanent TSB, Eddie Kearney said "We want to show our commitment to personal and small business customers in Kildare that we want to be close to them and meet their banking needs in the way that suits them best - in branch, online or by phone through our contact centre.
For Ulster Bank customers of these branches we are offering an easy transition to a new bank, with the same people and in the same building as they have been doing their banking business up to now.
We want to welcome them and assure them of a great service provided by great people."